Publication:
Evaluating Gender Structural Change: Guidelines for Evaluating Gender Equality Action Plans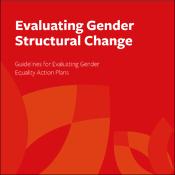 Advisors (or tutors)
Editors
Publisher
GENOVATE partner institutions
Abstract
GENOVATE is an action-research project which aims to ensure equal opportunities for women and men by encouraging a more gender competent management in research, innovation and scientific decision-making bodies, with a particular focus on universities. The project is based on the implementation of Gender Equality Action Plans (GEAPs) in six European universities and brings together a consortium with diverse experience in gender mainstreaming approaches. In tandem with the implementation of GEAPs in six European universities, a seventh partner institution – the Complutense University of Madrid (UCM), Spain – has been in charge of providing training and support to partners in terms of their GEAP evaluation process. The present Guidelines aspire to foster a reflection on how to evaluate gender structural change at University and also be a useful tool for all those planning to carry out an evaluation of a GEAP. This document synthesises the main ideas and steps to take into account while evaluating GEAPs, based on the findings of the evaluation training process led by the partner in charge of the evaluation WP (the UCM team), as well as the GEAP evaluation practices in each partner institution, and the specific support provided to each GENOVATE institutional partner by the evaluation team. In this regard, first, general concepts and features of evaluation, and specifically of the evaluation of GEAPs are outlined. Second, six specific steps for evaluating GEAPs are presented including concrete examples and tips drawn from the practices of GENOVATE partners, as well as a list of "GEAP quality criteria". Third, the adaptation of the Tichy's framework for evaluating structural change is presented and the main areas, dimensions and elements to evaluate -based on GENOVATE experience- are also shared. Finally, a set of references are included for those interested in deepening in this topic.