Publication:
Caracterización genómica y resistencia a antimicrobianos de Campylobacter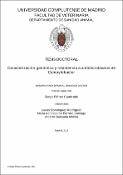 Files
Authors
Advisors (or tutors)
Editors
Publisher
Unicersidad Complutense de Madrid
Abstract
Las bacterias del género Campylobacter son las principales causantes de gastroenteritis de origen alimentario en todo el mundo, principalmente las especies Campylobacter jejuni y Campylobacter coli. Estos microorganismos colonizan el tracto digestivo de aves y mamíferos, siendo la principal vía de infección para las personas el consumo de carne de pollo contaminada. La infección producida por Campylobacter suele ser auto-limitante, pero ocasionalmente se producen complicaciones que requieren de tratamiento antimicrobiano, frecuentemente con eritromicina. La resistencia a eritromicina en Campylobacter se relaciona con mutaciones en genes o proteínas ribosomales, bombas de eflujo y con la presencia del gen erm(B). Este gen había sido identificado exclusivamente en aislados de Campylobacter procedentes de China y en todos los casos estaba localizado en islas genómicas de multirresistencia. La presencia de islas genómicas que portan genes de resistencia a diferentes antimicrobianos limita las opciones terapéuticas. En el presente trabajo de tesis doctoral se ha caracterizado una colección de aislados de C. jejuni y C. coli procedentes de animales, personas y aguas residuales. La finalidad del estudio fue la caracterización de la población por MLST y la identificación de genes de resistencia a antimicrobianos y su asociación en islas genómicas de multirresistencia. Además, se ha evaluado la presencia de perfiles de genes metabólicos en aislados pertenecientes a secuencias tipo (ST) vinculadas con campilobacteriosis en personas...
Bacteria of the genus Campylobacter, mainly C. jejuni and C. coli, represent the most frequent cause of gastroenteritis of alimentary origin worldwide. These microorganisms colonize the digestive tract of birds and mammals. The main route of infection for humans is through the consumption of contaminated poultry meat. The infection produced by Campylobacter is usually self-limiting but can occasionally produce complications that require antimicrobial treatment. Erythromycin is the main treatment of choice. Resistance to erythromycin in Campylobacter has been related to mutations in genes or ribosomal proteins, efflux pumps and more recently the presence of the erm(B) gene. This gene was originally identified in Campylobacter isolates from China and in all cases was located in genomic islands of multiresistance. The genomic islands identified in Campylobacter carry genes of resistance to different antimicrobials, which limits the therapeutic options.In the present doctoral thesis, we characterized a collection of C. jejuni and C. coli isolates from food animals, humans and wastewater, with the aim to characterize them by MLST and identify antibiotic resistance genes and their association with multiresistance genomic islands. In addition, the metabolic profiles of isolates belonging to sequences types (STs) related with human campylobacteriosis were evaluated...
Description
Tesis de la Universidad Complutense de Madrid, Facultad de Veterinaria, Departamento de Sanidad Animal, leída el 06/11/2017