Publication:
De la abstracción geométrica a la morfogénesis digital. Metaforma: dominio del diseño en el desarrollo de productos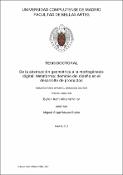 Files
Authors
Advisors (or tutors)
Editors
Publisher
Universidad Complutense de Madrid
Abstract
La determinación de la forma en el diseño a discurrido por diferentes etapas directamente asociadas al desarrollo técnico y tecnológico, desde la abstracción geométrica de las formas naturales hasta la morfo generación digital. Del mismo modo como la primera revolución industrial exigió una nueva manera de tratar las formas de los productos, la nueva revolución digital introduce nuevas herramientas y modelos de trabajo para el desarrollo de la cada vez más compleja tarea de determinación de la forma en el diseño. Los nuevos medios de producción como la Manufactura Digital Directa, las nuevas estrategias y modelos de trabajo como las plataformas y familias de productos y las nuevas herramientas digitales como la programación grafica de algoritmos para el modelado 3D, demandan una nueva conceptualización de los dominios de conocimiento en diseño y una nueva apuesta estratégica para abordar el ejercicio del diseño industrial. En esta tesis, siempre desde la perspectiva de la determinación de la forma se revisan de manera no exhaustiva tanto las aproximaciones a su determinación objetiva en el nuevo contexto digital, como las herramientas para su desarrollo y posterior transformación en productos terminados, mediada esta revisión por las nuevas estrategias metodológicas y proponiendo un nuevo concepto integrador que se adecua a esta nueva situación y sirve como base a la consolidación de un dominio de conocimiento en el diseño, nuevo concepto que se ha denominado Metaforma. La Metaforma se presenta como el dominio de conocimiento en diseño que logra integrar la diversidad de requerimientos y condicionantes en la determinación de la forma en diseño, dentro de esta nueva era digital y que permite dar cuenta de la complejidad del ejercicio del diseño, adaptándose a múltiples estrategias de trabajo presentes y futuras.
The determination of the form in the design to be run by different stages directly associated to the technical and technological development, from the geometric abstraction of the natural forms to the digital morpho generation. Just as the first industrial revolution demanded a new way of dealing with the forms of products, the new digital revolution introduces new tools and models of work for the development of the increasingly complex task of determining form in design. The new means of production such as Direct Digital Manufacturing, new strategies and work models such as product platforms and families and new digital tools such as graphic programming algorithms for 3D modeling, demand a new conceptualization of the domains of knowledge In design and a new strategic commitment to approach the exercise of industrial design. In this thesis, always from the point of view of form determination, both the approximations to its objective determination in the new digital context and the tools for its development and subsequent transformation into finished products are reviewed in a nonexhaustive way. The new methodological strategies and proposing a new integrative concept that is adapted to this new situation and serves as a basis for the consolidation of a domain of knowledge in design, a new concept that has been called Metaform. The Metaform is presented as the domain of knowledge in design that manages to integrate the diversity of requirements and constraints in the determination of the form in design within this new digital age and that allows to account for the complexity of the exercise of the design, adapting to multiple forms of present and future work.
Description
Tesis inédita de la Universidad Complutense de Madrid, Facultad de Bellas Artes, leída el 14 de diciembre de 2017; presidente, Rosa María Garcerán Piqueras
Collections