Publication:
Ensayo clínico Fase IV, unicéntrico, tripleciego, aleatorizado, controlado, en tres grupos paralelos para evaluar la eficacia del bloqueo del plano transverso abdominal y la administración de un miligramo de cloruro mórfico por vía epidural en cesáreas programadas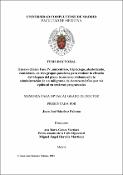 Files
Editors
Publisher
Universidad Complutense de Madrid
Abstract
La cesárea es un procedimiento quirúrgico frecuente que causa un dolor moderado intenso, especialmente en las primeras 24 horas. Las expectativas de una rápida recuperación son muy altas por parte de las parturientas. Por esta razón, los cuidados perioperatorios de la madre deben tener como objetivo un confort general óptimo. Los métodos analgésicos deben ser seguros para la madre y el recién nacido, interferir lo menos posible con la lactancia materna y no causar efectos secundarios, permitiendo una temprana movilización y tolerancia oral de la madre. La atención perinatal podría integrarse en una estrategia de recuperación temprana postquirúrgica (ERAS), que consiste en la aplicación de una serie de medidas durante el período perioperatorio para reducir el estrés del proceso quirúrgico, conduciendo a una mejor recuperación del paciente, disminuyendo así las complicaciones y la morbimortalidad. En los protocolos ERAS, el control del dolor es un objetivo fundamental y una estrategia de analgesia multimodal sería el gold standard para lograrlo. Aunque la bibliografía sugiere que la asociación de morfina neuroaxial junto con antiinflamatorios no esteroides (NAIDS) es la estrategia más efectiva, también indicaron que puede ser responsable de efectos secundarios que pueden retrasar esta rápida recuperación e interferir con la lactancia. Por lo tanto, se han considerado técnicas de bloqueo de nervios periféricos, como el bloqueo del plano transverso del abdomen (TAP)...
Cesarean section is a common surgical procedure that causes moderate to intense paine specially in the first 24 hours. The expectations of fast recovery are very high by patients. For this reason, the mother's perioperative care should aim at an optimal general comfort. Analgesic methods must be safe for the mother and the newborn, interfere as little as possible with the breastfeeding and not cause side effects, allowing an early mobilization and oral tolerance of the mother. The perinatal care could be integrated in a strategy of early recovery after surgery (ERAS), which consists in the application of a series of measures during the perioperative period to reduce the stress of surgical process, leading to a better recovery of the patient, by reducing complications and morbidity. In the ERAS protocols, the pain control is an essential outcome and multimodal analgesia is the gold standard to achieve it. Although recent studies detected that the association of neuroaxial morphine along with NAIDS is the most effective strategy, they also indicated that it can be responsible for side effects that can delay this rapid recovery and interfere with breastfeeding. Therefore, peripheral nerve block techniques, such as transversus abdominis plane (TAP) block, have been considered...
Description
Tesis inédita de la Universidad Complutense de Madrid, Facultad de Medicina, leída el 19-01-2023
Collections