Publication:
La Celestina en escena (1909-2012)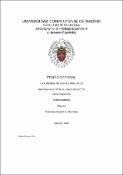 Files
Authors
Advisors (or tutors)
Editors
Publisher
Universidad Complutense de Madrid
Abstract
Como arte espectacular, cuyos productos son comunicados en el espacio y en el tiempo, el teatro requiere de un método de análisis focalizado tanto en el texto literario como en la puesta en escena; como práctica social y cultural, es también necesario comprender sus ámbitos de producción y recepción. Es por ello que la investigación académica en el ámbito del patrimonio teatral clásico español debe atender también a la historia y particularidades de su puesta en escena, no solamente en el período en que el texto vio la luz, sino también en épocas posteriores. En concreto, el estudio de su representación en los siglos XX y XXI es parcela todavía escasamente explorada. A pesar de que el género de La Celestina es aún hoy objeto de debate, la obra de Rojas se ha convertido desde el montaje de 1909 de la compañía Oliver-Cobeña (hasta el momento no se tiene noticia certera de representaciones de la trama completa anteriores a dicha versión) en uno de los clásicos con mayor presencia en las tablas a lo largo del siglo XX y en estos inicios del XXI. Si joven es la vida escénica de la obra de Rojas, el estudio de la misma está aún en pañales. A pesar de que contamos con algunos trabajos breves de relieve y con la importante y continuada atención al asunto dispensada por la revista Celestinesca, carecemos hasta la fecha de un trabajo extenso que aborde el tema en toda su complejidad, atendiendo a los múltiples factores en juego y elementos de la puesta en escena. En este trabajo nos proponemos reconstruir la presencia escénica de La Celestina en España en esta última centuria, desde una perspectiva integral que busca tener en cuenta tanto las principales características que asume la elaboración de las adaptaciones y montajes, como los contextos de producción y recepción de los mismos. La complejidad que presenta el estudio de la puesta en escena y la falta de consenso entre los investigadores a la hora de establecer un modelo fructífero de análisis han determinado que el primer capítulo se dedique a discutir los principales problemas que afronta quien decide acercarse al mundo de la representación de los clásicos en general y de La Celestina en particular. De esta manera, se abordan temas como el concepto de fidelidad y la relación entre texto dramático y representación, y entre texto original y adaptado. También se ofrece un breve repaso por la historia de la investigación sobre puesta en escena para justificar la metodología elegida para el caso de la obra de Rojas...
As a spectacle art, which communicates itself over space and time, theater requires a method of analysis focused both on the literary text as well as on its staging; as a social and cultural practice, its spheres of production and reception must also be understood. For this reason, academic research into the heritage of classic Spanish drama must also address the history and characteristics of its production, not only during the period in which the text came to light, but also in later eras. In particular, the study of the representation of the Spanish classics in the twentieth and twenty-first centuries remains barely explored territory. Despite the fact that La Celestina's genre is still debated today, Rojas' work has been among the most often-staged works of the classical Spanish heritage throughout the twentieth century, and at the beginning of this century, since its 1909 staging by the Oliver-Cobeña company (thus far there are no reliable accounts of productions of the entire work prior to this version). If La Celestina's life on stage can be called young, its study is still in its infancy. Though a few short works stand out and Celestinesca Journal has provided important and continuing attention to the work, to date there is no extensive work that addresses the subject of study in all its complexity, taking into account the multiple factors involved, as well as elements of its staging. In this work we propose reconstructing La Celestina's stage history in Spain over the last two centuries, from a comprehensive perspective that seeks to consider the main features in play to prepare the adaptations and stagings, as well as the contexts of the production and their reception. Given the complexity of studying staging, and the lack of consensus among researchers to establish a fruitful model of analysis, the first chapter is devoted to discussing the main problems faced by anyone who approaches the world of representing the classics in general and La Celestina in particular. It examines issues such as the concept of fidelity and the relationship between the dramatic text and mise-en-scène, and between original and adapted texts. It also offers a brief overview of the history of research on stage representation to justify the methodology chosen to treat Rojas work...
Description
Tesis inédita de la Universidad Complutense de Madrid, Facultad de Filología, Departamento de Filología Española II (Literatura Española), leída el 20-01-2016
Collections