Publication:
Diseño, construcción y test de una fuente emisora de fotón único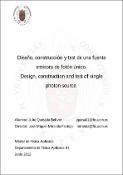 Authors
Advisors (or tutors)
Editors
Abstract
El desarrollo de fuentes eficientes emisoras de fotón único plantea un gran reto en el contexto de la comunicación cuántica, en concreto en el entorno de la codificación de la información transmitida (criptografía). Uno de los principios de funcionamiento de los sistemas de criptografía cuántica está centrado en la codificación de la información a transmitir con el menor número posible de fotones (uno en el caso ideal) para minimizar, de este modo, los ataques externos al sistema. Asimismo, se evita el envío de información redundante, ganando en velocidad de transmisión. Asimismo, la longitud de onda de emisión, su ancho espectral, la forma de excitación de la fuente emisora de fotón único, la posibilidad de emisión polarizada y la temperatura de trabajo son factores relevantes que se estudiarán en este informe y que servirán de guía a la hora de clasificar dichas fuentes. En este trabajo se detalla el diseño, fabricación y testeo de un sistema capaz de emitir fotones individuales de forma controlada a una longitud de onda de 1550 nm mediante la excitación de un láser con un sistema electrónico generador de pulsos.
[ABSTRACT] The development of efficient sources of single photon sources poses a major challenge in the context of quantum communication, particularly in the vicinity of the coding of the transmitted information (cryptography). One of the principles of operation of quantum cryptography systems is focused on the coding of information transmitted with the least possible number of photons (one in the ideal case) to minimize in this way, the system from external attacks. It also avoids sending redundant information, gaining in speed of transmission. Also, the emission wavelength, spectral width, the shape of excitation single photon emitting source, the possibility of polarized emission and operating temperature are important factors that are discussed in this report and will guide when classifying these sources. This paper details the design, manufacture and testing of a system capable of emitting single photons in a controlled manner at a wavelength of 1550 nm by the excitation of a laser with an electronic pulse generator.
Description
Texto completo retirado por indicación del autor, con fecha 1 de Febrero de 2017
Citation
[1] I Aharonovich, S Castelletto, D A Simpson, c-H Su, A D Greentree and S Prawer 2011 Diamond-based single-photon emitters Rep. Prog. Phys. 74 076501 [2] E Wu, V. Jacques, F. Treussart, H. Zeng, P. Grangier and J.-F. Roch 2005 Diamond-Based Single-photon Emission in the Near Infrared 9th Colloquium on Lasers and Quantum Optics (COLOQ 9) [3] F Pisanello, L Martiradonna, G Leménager, P Spinicelli, A Fiore, L Manna, JP Hermier, R Cingolani, E Giacobino, M De Vittorio, and A Bramati 2010 Room temperature-dipolelike single photon source with a colloidal dot-in-rod Applied Physics Letters 96, 033101 [4] A. Lochmann, E. Stock, J.A. To ¨ fflinger, W. Unrau, A. Toropov, A. Bakarov, V. Haisler and D. Bimberg 2009 Electrically pumped, micro-cavity based single photon source driven at 1 GHz Electronics Letters Vol. 45 No. 11 [5] B. Naydenov, R. Kolesov, A. Batalov, J. Meijer, S. Pezzagna, D. Rogalla, F. Jelezko and J. Wrachtrup 2009 Engineering single photon emitters by ion implantation in diamond Pplied Physics Letters 95, 181109 [6] T Schröder, A W. Schell, G Kewes, T Aichele and Oliver Benson 2011 Fiber-Integrated Diamond-Based Single Photon Source Nano Letters Volume: 11 Issue: 1 Pages: 198-202 [7] E Stock, W Unrau, A Lochmann, JA Töfflinger, M Öztürk, A I Toropov, A K Bakarov, V A Haisler and D Bimberg 2011 High-speed single-photon source based on self-organized quantum dots Semiconductor Science and Technology 26 (2011) [8] A Tribu, G Sallen, T Aichele,R André, J P Poizat, C Bougerol, S Tatarenko and K Kheng 2008 A High-Temperature Single-Photon Source from Nanowire Quantum Dots Nano Letters Vol. 8, No. 12 4326-4329 [9] V Ahtee, R Lettowa, R Pfaba, A Renna, E Ikonenb, S Götzinger and V Sandoghdar 2008 Molecules as sources for indistinguishable single photons Journal of Modern Optics Vol. 56, Nos. 2–3, 20 January–10 February 2009, 161–166 [10] E Wu, V Jacques, H Zeng, P Grangier, F Treussart and J F Roch 2006 Narrow-band single-photon emission in the near infrared for quantum key distribution Optical Society of America (270.5290) Photon Statistics [11] W M Schulz, M Eichfelder, M Reischle, C Kessler, R Roßbach, M Jetter and P Michler 2010 Pulsed single-photon resonant-cavity quantum dot LED Journal of Crystal Growth 315 (2011) 127–130 [12] S. G. Lukishova, L. J. Bissell, C. R. Stroud, Jr., and R. W. Boyd 2010 Room-Temperature Single Photon Sources with Definite Circular and Linear Polarizations Optics and Spectroscopy, 2010, Vol. 108, No. 3, pp. 417–424 [13] G D Marshall, T Gaebel, J C F Matthews, J Enderlein, J L O'Brien and J R Rabeau 2011 Coherence properties of a single dipole emitter in diamond New Journal of Physics 13 (2011) 055016 (10pp) [14] B Lounis and M Orrit 2005 Single-photon sources Rep. Prog. Phys. 68 (2005) 1129–1179 [15] D Steinmetz, E Neu, J Meijer, W Bolse, C Becher 2011 Single photon emitters based on Ni/Si related defects in single crystalline diamond Appl Phys B (2011) 102: 451–458 [16] M H Baier E. Pelucchi E Kapon, S. Varoutsis, M. Gallart, I. Robert-Philip and I. Abram 2004 Single photon emission from site-controlled pyramidal quantum dots Applied Physics Letters Volume 84, Number 5 [17] T. Usuki, Y Sakuma, S Hirose, K Takemoto, N Yokoyama, T Miyazawa, M Takatsu and Y Arakawa 2006 Single-photon generator for optical telecommunication Wavelength Journal of Physics: Conference Series 38 140–143 [18] W E Moerner 2004 Single-photon sources based on single molecules in solids New Journal of Physics 6 (2004) 88 [19] M Pelton, C Santori, G S Solomon, O Benson and Y Yamamoto 2002 Triggered single photons and entangled photons from a quantum dot microcavity Eur. Phys. J. D 18, 179{190 [20] I Aharonovich, S Castelletto, D A Simpson, A Stacey, J McCallum, A D Greentree and S Prawer 2009 Two-Level Ultrabright Single Photon Emission from Diamond Nanocrystals Nano Letters Vol. 9, No. 9 3191-3195 [21] T Schröder, F Gädeke, M J Banholzer and O Benson 2010 Ultrabright and efficient single-photon generation based on nitrogen-vacancy centres in nanodiamonds on a solid immersion lens New Journal of Physics 13 (2011) 055017 [22] M Giovannini Hanbury Brown–Twiss interferometry and second-order correlations of inflaton quanta 2011 PHYSICAL REVIEW D 83, 023515 [23] Aharonovich I, Castelletto S, Simpson D A, Greentree A D and Prawer S 2010 Photophysics of chromium-related diamond single-photon emitters Phys. Rev. A 81 043813 [24] Y Chi, G Chen, F Jelezko, E Wu and H Zeng 2011 Enhanced Photoluminescence of Single-Photon Emitters in Nanodiamonds on a Gold Film Ieee Photonics Technology Letters, Vol. 23, No. 6 [25] T Fukushima, Y Hijikata, H Yaguchi, S Yoshida, M Okano, M Yoshita, H Akiyama, S Kuboya, R Katayama, K Onabe 2009 Photoluminescence from single isoelectronic traps in nitrogen delta-doped GaAs grown on GaAs(1 1 1)A Physica E 42 2529–2531 [26] M B Ward, Z Yuana, R M Stevensona, B E Kardynal, C J Lobob, K Cooper, D A Ritchie and A J Shields 2002 A single photon emitting diode Free-Space Laser Communication and Laser Imaging II SPIE Vol. 4821 [27] C Monat, B Alloing, C Zinoni, L H Li and A Fiore 2006 Nanostructured Current-Confined Single Quantum Dot Light-Emitting Diode at 1300 nm Nano Letters Vol. 6, No. 7 1464-1467 [28] E S Semenova, R Hostein, G Patriarche, O Mauguin, L Largeau, I Robert-Philip, A Beveratos and A Lemaître 2008 Metamorphic approach to single quantum dot emission at 1.55 μm on GaAs substrate JOURNAL OF APPLIED PHYSICS 103, 103533 [29] J Claudon, J Bleuse, N S Malik, M Bazin, P Jaffrennou, N Gregersen, C Sauvan, P Lalanne and J M Gérard 2010 A highly efficient single-photon source based on a quantum dot in a photonic nanowire Nature Photonics DOI: 10.1038 / NPHOTON.2009.287 [30] I Aharonovich, C Zhou, A Stacey,J Orwa, S Castelletto, D Simpson, A D Greentree, F Treussart, J F Roch and Steven Prawer 2009 Enhanced single-photon emission in the near infrared from a diamond color center Physical Review b 79, 235316 [31] D Englund, B Shields, K Rivoire, F Hatami, J Vuĉković, H Park and M D Lukin 2010 Deterministic Coupling of a Single Nitrogen Vacancy Center to a Photonic Crystal Cavity Nano Lett.10, 3922–3926 [32] I Aharonovich, S Castelletto, B C Johnson, J C McCallum, D A Simpson, A D Greentree, and Steven Prawer 2010 Chromium single-photon emitters in diamond fabricated by ion implantation Physical Review b 81, 121201 [33] P Antoranz, I Vegas, JM Miranda 2010 A 4 V, ns-range pulse generator for the test of Cherenkov Telescopes readout electronics NUCLEAR INSTRUMENTS & METHODS IN PHYSICS RESEARCH SECTION A - ACCELERATORS SPECTROMETERSDETECTORS AND ASSOCIATED EQUIPMENT Vol 620, pages 456-461