Publication:
Sistema de reescritura basado en soft sets para sistemas biológicos simbólicos modelados con Pathway Logic en Maude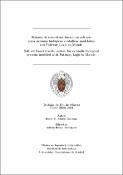 Authors
Advisors (or tutors)
Editors
Abstract
Pathway Logic es una herramienta para tratar con sistemas biológicos simbólicos desarrollada en SRI International. Está basada en redes de Petri e implementada en el lenguaje de reescritura Maude. Con esta herramienta se han desarrollado numerosos modelos de rutas de señalización celular. Estos modelos constituyen una base de conocimiento formal que contiene información sobre los cambios que tienen lugar en las proteínas dentro de una célula en respuesta a la reacción de ligandos/receptores, sustancias químicas o diversas tensiones. El objetivo principal de este trabajo consiste en desarrollar e implementar nuevas variantes de reescrituras basadas en soft sets en el contexto de Pathway Logic. La instrucción de reescritura estándar en Maude permite examinar los términos a través del árbol de reescrituras partiendo de un estado inicial. Otro objetivo es mejorar y actualizar la entrada/salida. Para esa reescritura de términos, se proponen nuevas funciones de elección en el árbol de búsquedas con soft sets, que proporcionan ventajas sobre la toma de decisiones bajo información incompleta. La implementación propuesta se lleva a cabo con el lenguaje Maude y se utilizan las nuevas funcionalidades en el metaintérprete y la gestión de entrada/salida. Por último, este trabajo incluye un análisis de los resultados del sistema propuesto respecto del sistema de reescritura estándar y de otros enfoques existentes en la literatura.
Pathway Logic is a tool for dealing with symbolic biological systems developed at SRI International. It is based on Petri nets and the Maude rewriting language. Numerous cellular signaling pathway models have been developed with this tool. These models constitute a formal knowledge base that contains information about the changes that take place in proteins within a cell in response to the reaction of ligands/receptors, chemicals or various stresses. The main objective of this dissertation is to develop and implement new rewriting variants based on soft sets in the context of Pathway Logic. The standard rewrite instruction in Maude allows the examination of terms through the rewrite tree starting from an initial state. Another objective is to improve and upgrade the input/output. For this rewriting of terms, new choice functions are proposed in the search tree by using soft sets, which provide advantages over decision making under incomplete information. The proposed implementation is carried out with the Maude language and the new functionalities in the meta-interpreter and the input/output management are used. Finally, this dissertation includes an analysis of the results of the proposed system with respect to the standard rewriting system and other existing approaches in the literature.
Description
Trabajo de Fin de Máster en Ingeniería Informática, Facultad de Informática UCM, Departamento de Sistemas Informáticos y Computación, Curso 2020/2021