Publication:
Efecto "in vitro" de interferón de tipo I sobre la expresión de retrovirus felinos y evaluación de su aplicación terapéutica en gatos con infección natural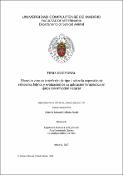 Files
Authors
Advisors (or tutors)
Editors
Publisher
Universidad Complutense de Madrid
Abstract
La leucemia y la inmunodeficiencia felinas son dos enfermedades muy importantes en la clínica de pequeños animales aunque las campañas de vacunación y control que se están llevando a cabo hayan reducido significativamente su prevalencia e incidencia. A día de hoy, no existe un tratamiento curativo para ninguna de las dos infecciones, lo que está obligando a los veterinarios a utilizar, en muchas ocasiones de forma empírica, antivíricos y/o inmunomoduladores para controlar el progreso de la infección, alentados por los resultados positivos obtenidos con el virus de la inmunodeficiencia humana. Entre estos inmunomoduladores se encuentra un interferón recombinante humano (rHuIFN-α), registrado para medicina humana y utilizado en pacientes infectados por el virus de la inmunodeficiencia humana (HIV+). Este IFN-α humano ofrece la ventaja de su fácil aplicación (vía oral) y su bajo coste, lo que hace que sea una alternativa muy interesante para el tratamiento de ambas retrovirosis. Por estos motivos se propuso como objetivo general de esta Tesis Doctoral estudiar el efecto del IFN-α en gatos con infección natural por el virus de la leucemia felina (FeLV) y el virus de la inmunodeficiencia felina (FIV) analizando distintos parámetros: cuadro clínico, alteraciones biopatológicas y evolución vírica. Este objetivo se desarrolló en tres subobjetivos: 1. Análisis del efecto in vitro sobre la expresión vírica, la actividad retrotranscriptasa RT, la viabilidad celular, la apoptosis y el ARN vírico del IFN-α 2a recombinante humano, el IFN-α (A/D) recombinante humano, y el IFN-ω recombinante felino en cultivos celulares linfoides infectados por FeLV y FIV. 2. Estudio de la situación inicial clínica, analítica y de la infección vírica de una población de gatos con infección natural por FeLV o FIV, para determinar las alteraciones y correlaciones significativas en ambas infecciones, y poder tenerlas como referencia para desarrollar el subobjetivo 3. 3. Evaluación de la evolución de la situación clínica, analítica y de la infección vírica en la población de gatos objeto de estudio tras aplicar el tratamiento por vía oral con IFN-α 2a recombinante humano (Roferon®). En los estudios in vitro tras la administración de interferón se observó que, aunque ninguno de los tres tipos empleados afectó a la síntesis de proteínas víricas (evaluadas a través de la expresión de la p27 de FeLV y de la p24 de FIV), sí se produjo una disminución estadísticamente significativa del número de partículas víricas infectivas (evaluadas a través de la presencia de transcriptasa inversa, RT) dependiente del tiempo de exposición y de la concentración de IFN. Esto indujo a pensar que el IFN reducía la formación de partículas víricas en células infectadas por FeLV o FIV en un punto de la replicación vírica post traducción: en la maduración, ensamblaje y/o liberación de partículas víricas. Los experimentos confirmaron que la viabilidad de las células infectadas disminuía con el tratamiento, constatando que en el caso de la infección por FeLV era debida al desarrollo de apoptosis, y en el caso de FIV era debida a necrosis celular. Por tanto, el tratamiento con IFN redujo la liberación de partículas víricas, posiblemente asociada a la alteración de las membranas celulares durante la apoptosis y necrosis de las células, disminuyendo eficazmente la carga vírica y limitando la expansión de la infección a otras células...
Feline leukemia and feline immunodeficiency are two important diseases in small animal medicine. Currently, vaccination and control campaigns have significantly reduced their prevalence and incidence. However there is no cure any of these infections. Practitioners prescribe antiviral and/or immunomodulatory therapy to delay the disease progression, mainly, based on the positive results obtained with HIV. One of this immunomodulants is a human recombinant interferon (rHuIFN-α) registered to be used in HIV+ treatment. Easy oral application and low price are two advantages that make it a very interesting choice for both retroviral diseases. The present work evaluates the effect of IFN-α in cats naturally infected with feline leukemia virus (FeLV) and feline immunodeficiency virus (FIV). The overall aim of this thesis was to analyze clinical and biopathological alterations and viral parameters and their evolution. This objective had the following three sub-objectives: 1. To analyse the in vitro effect of rHuIFN-α 2a, rHuIFN-α (A/D) and rFeIFN-ω on viral expression, reverse transcriptase activity (RT), viability, apoptosis, and viral RNA in feline lymphoid cell cultures infected with FeLV and FIV treated with these compounds. 2. To study the clinical, analytical and viral initial situation in a population of cats naturally infected with FeLV and FIV, to determine the alterations and significant correlations in both infections, and to have them as a reference value to develop sub-objective 3. 3. To evaluate the evolution of the clinical, analytical and viral infection in the group of cats orally treated with rHuIFN-α 2a (Roferon®). In vitro studies have shown that the synthesis of viral proteins (assessed by the expression of p27 in FeLV and p24 in FIV) did not decrease with the three interferons used, but they produced a statistically significant decrease in the number of infective viral particles (assessed by the presence of reverse transcriptase, RT). The decrease in the RT values depended on the time of exposure and the concentration of IFN. These results suggested that IFN reduced the formation of viral particles in cells infected with FeLV or FIV at a post translational viral replication point: maturation, assembly and/or release of viral particles. The experiments confirmed that the viability of infected cells decreased with treatment: in FeLV-infected cells it was due to the development of apoptosis, and in FIV-infected cells was due to necrosis. Therefore, interferon treatment reduced the release of viral particles due to the alteration of cellular membranes by apoptosis and necrosis, decreased viral load and the spread of infection to other cells...
Description
Tesis inédita de la Universidad Complutense de Madrid, Facultad de Veterinaria, Departamento de Sanidad Animal, leída el 05-02-2016
Collections