Publication:
High-temperature anti-Invar behavior of gamma-Fe precipitates in Fe_xCu_(100-x) solid solutions: Ferromagnetic phases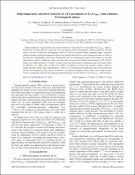 Advisors (or tutors)
Editors
Publisher
American Physical Society
Abstract
High-temperature magnetization and neutron diffraction measurements on metastable Fe_xCu_(100-x) solid solutions have recently shown to imply that γ-Fe precipitates present ferromagnetic anti-Invar behavior. For this reason, we have studied the ferromagnetic phases of γ-Fe in moment-volume parameter space, using the general potential linearized-augmented plane-wave method and the fixed spin moment procedure in order to calculate the corresponding total energy. We find that only two ferromagnetic phases (one related to a low- spin state and the other to a high-spin state) can exist and even coexist in limited volume ranges (3.55-3.59 Å). Hence, our results provide a "revisited" version of the local spin density calculations used in the early article by Moruzzi [Phys. Rev. B 34, 1784 (1986)]. In addition, the fixed spin moment method-using an energy-moment-volume space representation-allows us to conclude that the high-spin state is the ground state of the gamma-Fe precipitates, as the anti-Invar behavior is an intrinsic property of these states. This simple scenario seems to adequately describe the perplexing phenomenology recently observed on Fe_xCu_(100-x) solid solutions.
Description
©2005 The American Physical Society. We gratefully acknowledge the help of J. Luitz, who provided a script which permitted us to automatize our series of calculations. Financial support has been received from Spanish MEC Grant Nos. MAT2002-04178, MAT2002-11621-E, MAT2003-06942, and FICYT PB02-037. One of us (D.M.B.) thanks the Spanish MEC for a graduate grant.
Collections