Publication:
Del cine al videoactivismo: 50 años de miradas colectivas en torno a las luchas por el derecho a la vivienda, (1960-2010)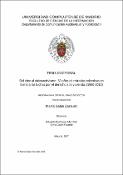 Files
Authors
Advisors (or tutors)
Editors
Publisher
Universidad Complutense de Madrid
Abstract
La presente tesis doctoral, Del cine militante al videoactivismo: cincuenta años de miradas colectivas en torno a las luchas por el derecho a la vivienda (1960-2010), tiene como punto de partida el estudio de estas prácticas audiovisuales alternativas en el período citado. Tras una gran crisis económica neoliberal, a principios del siglo XXI, protagonizada por altos índices de desempleo y el estallido de la burbuja inmobiliaria, España empieza a ser consciente de los límites que pone el sistema. Las alternativas políticas surgen a raíz de este desastre económico aportando una nueva forma de entender las prácticas públicas. Y también surgen alternativas en las experiencias audiovisuales condicionadas, no sólo por el contexto histórico-político, sino también por el desarrollo tecnológico. Una manera de concebir el cine o el vídeo como herramientas de intervención política y transformación social. Para entender estas prácticas buscamos los antecedentes en las experiencias de cine militante que nacen a principios de los años sesenta. Debido a la marginalidad de las mismas, elaborar un mapa de colectivos y producciones audiovisuales de este tipo consiste en una labor de campo muy pormenorizada. Ante estos planteamientos, partimos de una pregunta de investigación que vehicula todo nuestro trabajo: ¿Este tipo de prácticas audiovisuales contrahegemónicas y colectivas de cine militante y videoactivismo construyen un discurso alternativo en lo que se refiera a las luchas por el derecho a la vivienda?...
This PhD thesis, From militant cinema to videoactivism: fifty years of collective views about the struggles over the right to housing (1960-2010), takes as its starting point the study of these alternative practices in this period. After a great neoliberal crisis, at the beginning of the twenty first century, starring by high unemployment rates and the bursting of the housing bubble, Spain begins being aware of the system limits. The political alternatives arise from this economic disaster giving a new way of understanding this public practices. And also new alternatives arise in the audio-visual experiences conditioned, not only by the historical and political context, but also by the technological development. This is a new way of understanding film and video as political and social transformation tools. To study these practices we look for the precedents in the militant cinema experiences of the beginning of the sixties. Because of the marginality of these kinds of productions, make a collective and audio-visual products map is a detailed fieldwork...
Description
Tesis inédita de la Universidad Complutense de Madrid, Facultad de Ciencias de la Información, Departamento de Comunicación Audiovisual y Publicidad I, leída el 19-01-2016
Collections