Publication:
Pentaradiate diploporites (Echinodermata) from the Spanish Middle Ordovician and their taxonomic significance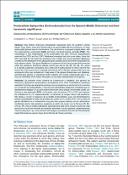 Advisors (or tutors)
Editors
Publisher
Sociedad Española de Paleontología
Abstract
New Middle Ordovician specimens of pentaradiate diploporite blastozoans from the southern Central Iberian Zone, Spain, show that Oretanocalix is an aristocystitid diploporite with five ambulacra; all other aristocystitid genera have 2?4 ambulacra. The laterally elongate oral frame is composed of eight plates, with five, facet-bearing, circumorals (COO) and three, non-facet-bearing, periorals (POO). This necessitates a new interpretation of the aristocystitid oral area and diagnosis of the family Aristocystitidae. Previous interpretations assumed four COO and four POO. Weathered examples lack oral cover plates and show that plates CO1 and CO4, which support ambulacra D and B, respectively, do not reach the inner margin of the peristome. They also reveal abundant diplopores, which were covered by a thin epistereom in life. Diplopores grew at plate sutures and were incorporated into both adjacent plates as the plates enlarged. Oretanocalix julioi n. sp. extends the stratigraphic range of Oretanocalix back to the basal Dobrotivian ?low in the Upper Darriwilian. The genus Batalleria is a sphaeronitid diploporite with food grooves that branched within the peristome. The branching pattern reflects Lovén's law and is: AR, BL, CR, DL, ER, where A?E denote Carpenter's ambulacra and L (left) and R (right) denote on which side of the ambulacrum the first branch lies. Each branch leaves the peristome by a separate ambulacral orifice. No other sphaeronitids have food grooves that branch within the peristome and all other sphaeronitids have one ambulacral orifice per ambulacrum. Thus, a new diagnosis of sphaeronitids is necessary.
Se presenta nuevo material de Oretanocalix y Batalleria, dos géneros de blastozoos diploporitos pentaradiados procedentes de la Zona Centroibérica meridional española. El primero se caracteriza por tener cinco ambulacros, en vez de los 2 a 4 conocidos en el resto de los aristocistítidos, y una teca con abundantes diploporos recubiertos por un epiestereoma delgado. En su zona oral se reconocen cinco placas circumorales (COO, con facetas) y tres periorales (POO, sin facetas), pero las placas CO1 y CO4, que soportan los ambulacros D y B, respectivamente, no alcanzan el margen interno del peristoma. Ello obliga a revisar la diagnosis de la familia Aristocystitidae, pues las interpretaciones previas consideraban el área oral formada por cuatro COO y cuatro POO. Por su parte, el género Batalleria es un esferonítido muy particular porque presenta surcos alimentarios ramificados dentro del peristoma, siguiendo el patrón de Lovén con la fórmula AR, BL, CR, DL, ER, más un orifi cio ambulacral separado para cada rama. Desde el punto de vista taxonómico se revisan también las especies atribuidas a ambos géneros, estableciéndose Oretanocalix julioi n. sp. como la forma más antigua, procedente de lutitas del Dobrotiviense basal (Darriwiliense superior bajo) de los Montes de Toledo centrales.
Collections