Publication:
Circulación de memes en WhatsApp: ambivalencias del humor desde la perspectiva de género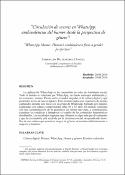 Advisors (or tutors)
Editors
Abstract
La aplicación WhatsApp se ha convertido en todo un fenómeno social. Todo el mundo se relaciona por WhatsApp, enviando mensajes multimedia y, en ocasiones, memes. Piezas verbo-visuales surgidas en la cultura digital y que pretenden la risa de sus receptores. Este artículo explora un repertorio de memes capturados durante seis meses en un grupo de WhatsApp, formado por mujeres asalariadas con edades comprendidas entre 50 y 55 años. El análisis comienza con una caracterización de la gramática del meme tipo para, a continuación, examinar las temáticas e interpretar el sentido de los contenidos humorísticos distribuidos. Los resultados sugieren que el humor es algo más que divertimento y que la risa también está mediada por la estructura social, desprendiendo destellos de una cultura que mantiene sesgos de género, orientados indistintamente a mujeres y hombres.
WhatsApp has become a social phenomenon. Everyone talks on WhatsApp!Users sending multimedia messages and sometimes memes: a visual-verbal joke emerged in digital culture to induce humorous responses in its receivers. This article analyzes a selection of memes captured for six months in a group of employed women aged between 50 and 55 years. The analysis begins with a characterization of prototypical meme. Then examines the topics and interprets the meaning of content distributed humorous. The results suggest that humor is more than laughter and humor is mediated by the social structure. Memes reflects the androcentric culture but now women and men are mocked equally
Citation
ABRIL, Gonzalo (2010): "Cultura visual y espacio público-político", Revista CIC -Cuadernos de Información y Comunicación-, núm. 15, pp. 21-36. AIMC (2015): Navegantes en la red. Encuesta a usuarios de internet (17 º edición). ALADRO, Eva (2005): "El Humor como medio cognitivo", Revista CIC -Cuadernos de Información y Comunicación-, núm. 9, pp. 317-327. BALLESTEROS, Esmeralda (2016): "Barreras de acceso a las mujeres en el empleo ferroviario", Revista del Ministerio de Trabajo y Seguridad Social, nº 121, serie Economía y Sociología. BECKER, Howard (2007): Telling About Society, traducido como Para hablar de la sociedad: La Sociología no basta, Buenos Aires, Siglo XXI, 2015. BENEITO, Roser (2015): Gente mayor y medios de comunicación sociales:rompiendo con la e-marginalidad -resultados preliminares- Universitat Oberta de Catalunya (UOC), disponible en línea http://www.uoc.edu/portal/es/uoc-news/ actualitat/2015/072-gente-grande-tic.html, fecha de acceso febrero de 2016. BERGER, John (1972): Ways of seeing, Peguen Books Ltd., London, traducido como Modos de Ver, Barcelona, Gustavo Gili, séptima edición, 2002. BERGER, John y MOHR, Jean (1975): A Seventh Man. A book of images and words about the experience of Migrant Workers in Europe, London, Writers and Readers Publishing Cooperative, 1982. BERGER, Peter (1997): Risa redentora. La dimensión cómica de la experiencia humana, Barcelona, Kairós, 1999. BING, Janet (2007): "Liberated jokes: Sexual humor in all-female groups", Humor, Vol.20, núm. 4, págs. 337–366. BLAIS, Julie; CRAIG, Wendy; PEPLER, Debra; CONNOLLY, Jennifer (2008): "Adolescents Online: The Importance of Internet Activity Choices to Salient Relationships", Journal of Youth and Adolescence, Vol. 37, Issue 5, págs. 522-536. BREA, José L. (2010): Las tres eras de la imagen. Imagen-materia, film, e-image, Madrid, Akal. CARREÓN, Emilie (2013): "Barbie en Palenque, o la manufactura de lo intangible", Anales del Instituto de Investigaciones Estéticas, Vol. XXXV, número 102, págs. 65-91. DYNEL, Marta (2016): "I has seen Image Macros!" Advice Animals memes as visualverbal jokes", International Journal of Communication, núm. 10, págs. 660–688. FREIXAS, Anna y LUQUE, Bárbara (2009): "El secreto mejor guardado: la sexualidad de las mujeres mayores", Política y Sociedad, Vol. 46, núm. 1 y 2, págs. 191-203. GORDO, Ángel y MEGIAS, Ignacio (2006): Jóvenes y cultura Messenger, Madrid,Fundación de Ayuda contra la Drogadicción. ISLAS CARMONA, Octavio (2008): "El prosumidor. El actor comunicativo de la sociedad de la ubicuidad", Palabra Clave, Vol. 11, núm. 1, págs. 29-39. IZQUIERDO, Mª Jesús y BARBETA, Marc (2013): "La transcendencia de lo cotidiano: vínculos, chistes y subjetividad", Política y sociedad, Vol. 50, núm. 3, págs. 1097-1131. IZQUIERDO, Mª Jesús y BARBETA, Marc (2014): "Notas metodológicas sobre el análisis de los vínculos grupales mediante la identificación de las asociaciones de sentido en los chistes", EMPIRIA -Revista de Metodología de Ciencias Sociales-, núm. 33, págs. 139-171. KOTTHOFF, Helga (2006): "Gender and Humor: The State of the Art", Journal of Pragmatics, vol. 38, no. 1, pp. 4-25. LASÉN, Amparo (2012): "Autofotos. Subjetividades y Medios Sociales", en García-Canclini, N. Cruces, F. y Guadarrama, M. (Ed.), Jóvenes, culturas urbanas y redes digitales. Prácticas emergentes en las artes, el campo editorial y la música, Madrid, Ariel, págs. 243-262. LASÉN, Amparo y Elena CASADO (eds.) (2014): Mediaciones Tecnológicas. Cuerpos, afectos y subjetividades, Madrid, CIS-Universidad Complutense de Madrid. MARTÍN ALEGRE, Sara (2005): "El miedo a la risa: un debate en torno a Bridget Jones, heroína de Helen Fielding", Dossiers feministes, núm. 8, págs. 89-102. MARTÍN CRIADO, Enrique (2014): "Mentiras, inconsistencias y ambivalencias. Teoría de la acción y análisis de discurso", Revista Internacional de Sociología, Vol. 72, núm. 1, págs. 115-138. MARTIN, Phiona y BARNARD, Antoni (2013): "The experience of women in maledominated occupations: A constructivist grounded theory inquiry", SA Journal of Industrial Psychology, Vol. 39, núm. 2, disponible en línea http://www.sajip.co.za/ index.php/sajip/article/viewFile/1099/1323, fecha de acceso junio de 2014. MENET, Jonathan (2016): "YOMONI, un acteur de l'épargne à la mode du MEME", disponible en http://www.jonathan-menet.fr/blog/2016/01/19/yomoni-un-acteur-delepargne- a-la-mode-du-meme/, fecha de acceso febrero de 2016. ORTIZ GÓMEZ, María Jesús y Miguel Ángel DEL ARCO BRAVO (2012): "Dieciocho años del Observatorio de la Imagen de las Mujeres", Cuestiones de género: de la igualdad y la diferencia, núm. 7, págs. 269-295. ROMERO, Juana y PERLADO, Marta (2015): "El fenómeno WhatsApp en el contexto de la comunicación personal: una aproximación a través de los jóvenes universitarios", Icono 14, Vol. 13, págs. 73-94. SHIFMAN, Limor y LEMISH, Dafna (2010): "Between Feminism and Fun(ny)mism:Analyzing Gender in Popular Internet Humor", Information, Communication & Society, Vol. 13, Issue 6, págs. 870-891. SHIFMAN, Limor (2012): "An anatomy of a YouTube meme", New Media & Society, Vol. 14, núm. 2, págs. 187-203. SHIFMAN, Limor (2013): Memes in Digital Culture, MIT Press. SEGADO BOJ, Francisco (2009): "Un tópico perpetuado. La imagen de la mujer y el feminismo en el humor gráfico de la prensa diaria durante la transición (1974-1977)", Zer -Revista de estudios de comunicación-, núm. 27, págs. 203-224. STATISTA (2016): Mobile messenger apps - Statista Dossier-, Statista, Inc. (NY) URROZ, Teresa (2005): "Cómo reírse de una misma y no morir en el intento", Dossiers Feministes, núm. 8, págs. 7-14. VIGARA TAUSTE, Ana Mª (1994): El chiste y la comunicación lúdica: lenguaje y praxis, capítulo 1, Madrid, Ediciones Libertarias, reproducido en Espéculo (2013), núm. 50, -Revista de estudios literarios UCM- , págs. 8-27. WESCH, Michael (2009): "YouTube and You: Experiences of Self-awareness in the Context Collapse of the Recording Webcam", Explorations in Media Ecology, Vol.8 (2), págs. 19-34. WIGGINS, Bradley y BOWERS, Bret (2015): "Memes as genre: A structurational analysis of the memescape", New Media & Society, Vol. 17, núm. 11, págs. 1886–1906.
Collections