Publication:
Tratamiento farmacológico del asma e importancia del consejo farmacéutico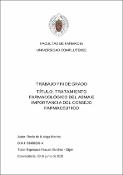 Authors
Advisors (or tutors)
Editors
Abstract
El asma es una enfermedad inflamatoria crónica caracterizada por broncoconstricción e hiperreactividad bronquial, que afecta a un elevado número de personas en el mundo. Actualmente no existe ningún fármaco que consiga erradicar la enfermedad, sólo existen fármacos que permiten el control de la misma; razón por la cual las investigaciones se basan en combinación de diferentes fármacos y la búsqueda de nuevas dianas terapéuticas. Es importante para el tratamiento de esta enfermedad que haya una implicación por parte del paciente y del personal sanitario. Los dispositivos empleados son muy complejos y las ventajas de la vía inhalatoria se ven mermadas ya que un alto porcentaje de los pacientes no saben utilizarlos, perdiendo gran cantidad de fármaco.
Asthma is a chronic inflamatory disease, characterized by bronchoconstriction and bronchial hyperreactivity, which affects a very high number of people throughout the world. Presently, there is no drug which can obtain complete eradication; there are only certain drugs which allow its control. This is the reason why research in this field is based in the combination of different drugs and the search of new therapeutic targets. It is of outmost importance in asthma therapy to have an adequate patient and health personnel involvement. The devices used are very complex and the advantages of inhaled dosing are reduced, due to the fact that a high percentage of patients don't know how to use them correctly, losing a great amount of drug.