Publication:
Las prácticas artísticas colaborativas, basadas en la experiencia autobiográfica, como estrategias que facilitan la reflexión y toma de conciencia, sobre los modos de hacer en el aula en la formación del profesorado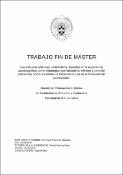 Authors
Advisors (or tutors)
Editors
Abstract
Este estudio propone las prácticas artísticas colaborativas, basadas en las experiencias autobiográficas, como estrategias complementarias que faciliten nuevos modos de hacer y de relacionarse en el aula. Se propone un espacio de reflexión sobre la educación recibida por medio de la experiencia autobiográfica ligada a la imagen familiar, enmarcando este proceso en las prácticas de arte contemporáneo que han tratado dicha temática, con el fin de tomar conciencia de los procesos de transmisión implicados y fomentar una transformación futura en las estructuras predeterminadas. De esta forma, la presente investigación propone una alternativa a partir del arte, donde tomando dicha revisión autobiográfica, y entendiendo que esto puede ser compartido y potenciado en el trabajo colaborativo, se abran nuevas posibilidades en los modos de relacionarnos. Para ello se llevará a cabo una investigación con profesores y estudiantes de Magisterio en Medialab–Prado, centro cultural que ha sido reconocido por su particular organización en torno a la comunidad, que es un espacio que se plantea como laboratorio ciudadano, permeable y participativo, donde se pueden observar nuevas lógicas de encuentro y de transmisión del conocimiento y la cultura. Se espera que dicha reflexión sea incorporada en los procesos de enseñanza – aprendizaje que los profesores llevan al aula; construyendo así, comunidades cada vez más permeables y participativas.
The present study proposes collaborative artistic practices, based on autobiographical experiences, as complementary strategies aiming at the facilitation of new ways of doing and relating in the classroom. It also proposes a space for reflexion about the education received from autobiographical experiences that are linked to household images, all within the framework of contemporary art practices that have developed such topics, and targeting the realisation of the transmission processes involved in them and the fomenting of the transformation of the de facto structures. In this way, the study proposes an artistic alternative where, based on the revision of personal experiences, which can be shared augmenting the collaborative environment, new forms of relations arise. To do so, an investigation with Master teachers and students will be performed, using the installations of Medialab-Prado –cultural center recognised by its communitarian orientation- because it has become a permeable and participative citizen's lab, where new logic of finding and transmitting knowledge and culture can thrive. Finally, it is expected that the resulting reflections are incorporated in the teaching/learning processes that teachers develop in the classroom, thus building more permeable and participative communities.
Description
El presente. trabajo obtuvo la calificación de 10, y fue propuesto por el tribunal a MH