Publication:
Aplicación de wayfinding y wayshowing en redes malladas Wi-Fi con detección RSSI-BLE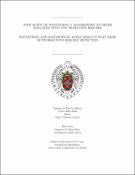 Authors
Advisors (or tutors)
Editors
Abstract
Perderse en un edificio. Frustrante y habitual. Todos nos perdemos en algún momento. La capacidad innata de la orientación nos ayuda a escapar de estas situaciones, usando la percepción del entorno para encontrar pistas que nos permitan reconocer dónde estamos, y a dónde vamos. Mientras que las técnicas de guiado y señalización han avanzado con nuevos dispositivos e ingenios, ofreciendo mapas dinámicos y guiado inteligente, lo de orientarse dentro de los edificios se mantiene de forma bastante estática desde hace tiempo. Este trabajo formula una solución de guiado en interiores con el fin de llegar a un destino y evitar perderse en un entorno desconocido. Para ello, detectando a una persona mediante su smartphone o cualquier dispositivo con bluetooth, se le guiara con señales en pantallas al destino que quiere llegar.
To get lost in a building. Frustrating and common. We all get lost at some point. The innate ability to orient ourselves helps us escape these situations, using our perception of our surroun dings to find clues to recognize where we are, and where we are going. While guidance and signaling techniques have advanced with new devices and inventions, offering dynamic maps and intelligent guidance, orientation within buildings has remained fairly static for some time. This paper formulates an indoor guidance solution in order to reach a destination and avoid getting lost in an unfamiliar environment. To do this, detecting a person through your smartphone or any device with bluetooth, you will be guided with signs on screens to the destination you want to reach.
Description
Trabajo de Fin de Máster en Internet de las Cosas, Facultad de Informática UCM, Departamento de Arquitectura de Computadores y Automática, Curso 2021/2022.