Publication:
La noción de potencia normativa europea y su incidencia en la doctrina española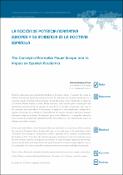 Advisors (or tutors)
Editors
Abstract
Desde la dimensión más normativista/idealista de la teoría crítica, I. Manners fue capaz de elaborar la noción de potencia normativa europea la cual surge, en un primer momento, en el conocido artículo "Normative Power Europe: Acontradiction in terms?" publicado en el Journal of Common Market Studies en 2002. Desde entonces, dicha noción pasó a formar parte del denominado mainstream de los estudios de área de la UE siendo considerada como uno de los conceptos más innovadores. Ciertamente, su impacto ha sido significativo, aunque heterogéneo, de ahí que los académicos (especialmente los autores españoles) presenten posturas divergentes respecto al mismo. No obstante, pese a estas diferencias, es innegable cómo esta nueva noción ha enriquecido significativamente las perspectivas más tradicionales desde un enfoque innovador y singular.
From social critical theory´s most normative/ideational dimension, I. Manners was able to elaborate the concept of Normative Power Europe that arose, at an early stage, in the well-known article "Normative Power Europe: A contradiction in terms?" published in the Journal of Common Market Studies in 2002. Since then, the latter became part of mainstream where is considered as one of the most innovate notions in European Union studies. Its impact is highly significant but heterogeneous in the discipline and, in particular, the Spanish academia. However, despite different stances, it is undeniable how it has enriched the mainstream from an innovative and different approach.
Collections