Publication:
Educación en emprendimiento. Revisión de la literatura económica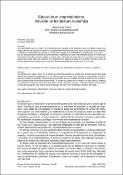 Authors
Advisors (or tutors)
Editors
Publisher
Universidad Complutense de Madrid
Abstract
¿El emprendedor nace o se hace? Fue el intento por dar respuesta a esta pregunta lo que nos motivó a buscar esos rasgos comunes que pudieran identificar a esos potenciales emprendedores, tanto desde el punto de vista de aptitudes y actitudes o características que poseían en común todos aquellos que manifestaban su inquietud por "emprender", y por otro lado pretendemos identificar las herramientas o habilidades que estos emprendedores buscan en la formación empresarial. Para ello nos hemos valido -y tomado como referencia- los argumentos de los grandes economistas del pasado como Smith, Mill, Say, Marshall, etc. Analizaremos la tradición de ayuda a las empresas nacientes a través de las principales líneas de pensamiento económico. Revisaremos la literatura relacionada con este tema.
Are entrepreneurs made or born? As an attempt to answer this question we sought those common features that could identify those potential entrepreneurs. On one side we had the common skills, attitudes or characteristics that all of those who wanted to undertake projects had and on the other side, we identified the tools or skills that these entrepreneurs claimed during the entrepreneurial training. To answer the question of our research, we have taken as reference the arguments of important economists of the past as Smith, Mill, Say, Marshall… We will analyse the aid provided to start-ups through the main lines of economic thought. We will revise the literature related to this matter.
Citation
Astebro, Thomas y Bazzazian, Navid. 2010. Student Start-ups and local economic development. Londres, s.n. Balbontín, Patricia. 2012. El emprendimiento, primera opción en las preferencias de los jóvenes andaluces, Andalucía Económica, Octubre (247), pp. 6-23. BOE 2013. Ley 14/2013 de 27 de septiembre, de apoyo a los emprendedores y su internacionalización. 28 septiembre, n. 233, pp. 78787-78882. Cantillon, Richard. 1978. Ensayo sobre la naturaleza del comercio en general. México, Fondo de Cultura Económica. De Pablos, Carmen. y Blanco, FranciscoJosé. 2013. Los cien errores del emprendimiento. Madrid, ESIC. Emran, Shahe y Stiglitz, Joseph. 2009. Financial Liberalization, Financial Restraint and Entrepreneurial Development. Institute for International Economic Policy. Working Series, The George Washington University, January. Ekelund, Robert B. y Hébert, Robert F., 1991. Historia de la teoría económica y de su método. Madrid, McGraw-Hill. Freire, María Teresa. 2007. Economía para bachilleres. Libros de Economía y Empresa, Año II (4), pp. 43-46. Freire, María Teresa y Rosado, Ana Isabel 2011. The Debate Concerning Political Aids to "Infant" Companies. Estambul, Bogazici University. Gil Estallo, María Angeles y Giner de la Fuente, Fernando. 2010. Como crear y hacer funcionar una empresa. Madrid, ESIC. Gil Estallo, María Angeles y Giner de la Fuente, Fernando. 2011. Emprende. Convierte tu sueño en realidad. Madrid, ESIC. Giner de la Fuente, Fernando. 2013. 27 conversaciones con emprendedores españoles. Madrid, ESIC. Giner de la Fuente, Fernando; Gil Estallo, Mª Angeles y Martí Pidelaserra, Jordi. 2013. Emprender con ideas innovadoras. Madrid, ESIC. Global Entrepreneurshnip Monitor (GEM). 2012-2015. Informe GEM España 2011, 2012, 2013, 2014, España, Cise. Lucas, Robert. 1988. On the mechanics of economic development, Journal of Monetary Economics, Issue 22, pp. 3-42. Marshall, Alfred. [1890] 1948. Principles of Economics. Londres, Macmillan. Mason, Colin M. y Harrison, Richard T. 2008. Measuring business angel investment activity in the United Kingdom: a review of potential data sources, Venture Capital: An International Journal of Entrepreneurial Finance, 10(4), pp. 309-330. Mazzucato, Mariana. 2013. The Entrepreneurial State: Debunking Public vs. Private Sector Myths. London, Anthem. Mill, John Stuart. [1848] 1965. Principles of Political Economy. Nueva York, A.M. Kelley Publishers. Monkman, David. 2010. Business Incubators and their role in Job creation. NBIA Publications. Perdices de Blas, Luis 2003. Historia del pensamiento económico. Madrid, Síntesis. Perdices de Blas, Luis 2006. Escuelas de Pensamiento Económico. Madrid, Ecobook. Perdices de Blas, Luis 2008. Diccionario de Historia del Pensamiento Económico. Economistas, escuelas y corrientes de pensamiento. Madrid, Ecobook. Santos Redondo, Manuel. 1997. Los economistas y la empresa. Empresa y empresario en la historia del pensamiento económico. Madrid, Alianza. Say, Jean Baptiste. [1803] 1972. Traité d'Économie Politique. París, Calmann-Lévy. Smith, Adam. [1776] 1994. La Riqueza de las Naciones. 1ª ed. Madrid: Alianza Editorial. Stiglitz, Joseph, Greenwald, Owen B. 2014. Creating a Learning Society. New York, Columbia University Press. White, Lawrence H. 2015. El Choque de Ideas Económicas. Los Grandes Debates De Política Económica De Los Últimos Cien Años. Barcelona, Antoni Bosch. Williamson, Oliver. 1985. Las instituciones económicas del capitalismo. México, Fondo de Cultura Económica.
Collections