Publication:
Universidad inclusiva para la promoción de una sociedad inclusiva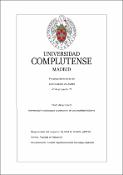 Advisors (or tutors)
Editors
Abstract
El presente proyecto se propuso desarrollar recursos innovadores para la concienciación sobre la inclusión de la diversidad desde la comunidad universitaria para promover la mejora de la calidad de vida y mejora social de colectivos vulnerables. No se trata sólo de sensibilizar al alumnado con respecto a las especialidades profesionales que trabajan en relación a la dependencia y la diversidad funcional, se trata también de incluir al alumnado universitario diverso, sensibilizar al conjunto de la comunidad universitaria, investigar, desarrollar recursos y actuaciones innovadoras en esta problemática, colaborar con empresas, otras instituciones educativas, tercer sector, etc. para impulsar mejoras en la concienciación sobre la inclusión y la mejora de la calidad de vida de las personas diversas. El ámbito educativo, y especialmente el universitario, tienen una gran responsabilidad en este asunto puesto que gran parte de los y las profesionales que diseñan o trabajan en diferentes entornos y servicios con este colectivo se forman en las universidades. Por lo tanto, se trata de desarrollar una cultura inclusiva transversal.
This project aimed to develop innovative resources to raise awareness about the inclusion of diversity from the university community to promote the improvement of the quality of life and social improvement of vulnerable groups. It is not only about raise awareness students to the professional specialties that work in relation to dependence and functional diversity, it is also about including diverse university students, raising awareness the entire university community, researching, developing resources and actions Innovative in this problem, collaborate with companies, other educational institutions, third sector, etc. to promote improvements in awareness about the inclusion and improvement of the quality of life of diverse people. The educational field, and especially the university, have a great responsibility in this matter since a large part of the professionals who design or work in different environments and services with this group are trained in universities. Therefore, it is about developing a cross-cutting inclusive culture.