Publication:
Usos poéticos del latín en la segunda mitad del siglo XX: del erudito "dictum" a la "pax" burguesa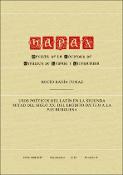 Authors
Advisors (or tutors)
Editors
Publisher
Sociedad de Estudios de Lengua y Literatura
Abstract
Dentro de la Tradición Clásica, podemos atender a la aparición del latín como elemento poético en la poesía española contemporánea, bien sea por medio de la incorporación del mismo como lengua poética o por medio de un uso metonímico con el fin de aludir indirectamente a contextos sociales o culturales determinados. En este artículo damos cuenta de varios ejemplos poéticos, con una presencia relevante de autores de la Generación del 50, evidenciando el tipo de referencia y la función que adquiere el latín en el poema: carácter intertextual, paródico o litúrgico, entre otros, que amplían el significado de esta lengua en autores como Ángel González, Jaime Gil de Biedma o Manuel Vázquez Montalbán.
In the field of Classical Tradition, we can consider the use of Latin as a poetic element inside contemporary Spanish poetry, both by its utilization as a poetic language and by a metonymical way to indirectly allude to concrete social or cultural contexts. This paper shows a number of poetic works, particularly written by poets from Generation of the 50's, describing the kind of reference and the function of Latin in the literary context: intertextual, parodic or liturgical features, between others, are founded in authors like Ángel González, Jaime Gil de Biedma or Manuel Vázquez Montalbán.
Collections