Publication:
Malaria: aparición de formas farmacorresistentes a artemisinina en P. falciparum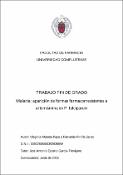 Authors
Advisors (or tutors)
Editors
Abstract
La malaria constituye una importante amenaza para la salud pública a nivel mundial dentro de las enfermedades transmisibles, ya que su prevalencia y mortalidad supera a las de cualquier otra. En el presente trabajo se abordan las principales estrategias de terapia antiparasitaria (basadas en artemisinina) enfocadas al tratamiento del paludismo, así como el desarrollo de resistencia de Plasmodium falciparum al mismo. Así mismo, se tratan las estrategias para la contención y prevención de la aparición de dichas resistencias y se plantean una serie de disyuntivas, debatiendo posibles soluciones para ellas.
Malaria is the global public health major threat within the communicable diseases, due to prevalence and mortality overcomes any other infectious desease. The aim of the present paper is to approach the based on artemisinin antiparasic therapy main strategies, focused on the malaria treatment, and the Plasmodium falciparum resistance development. Therefore, containment and prevention strategies of araising resistances are tackled and trade-offs will emerge, discussing potential solutions for them.