Publication:
Senderos clínicos del acompañamiento terapéutico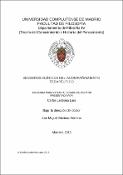 Files
Authors
Advisors (or tutors)
Editors
Publisher
Universidad Complutense de Madrid
Abstract
Este trabajo de investigación aborda algunas de las problemáticas que presenta el trabajo en el campo de la «salud mental», así como las posibilidades clínicas que brinda la inclusión del dispositivo clínico denominado Acompañamiento Terapéutico en la atención psicológica y psiquiátrica, estudiando aquellos casos en los que puede ser necesaria su incorporación como una herramienta de trabajo que aporte, además de contención al paciente, la posibilidad de construcción y continuidad de un tratamiento. Previamente se hará un recorrido por el marco y sostén epistemológico y clínico del Acompañamiento Terapéutico, esto es, la teoría psicoanalítica construida por Sigmund Freud y las contribuciones de autores del movimiento psicoanalítico que la han enriquecido, los trabajos de investigación sobre las problemáticas de lo grupal y las teorías de los vínculos, cuyo referente principal son los trabajos de Pichon-Rivière, así como las perspectivas que ha aportado la analítica existencial sobre la cuestión del ser, la temporalidad y la cotidianidad del mundo más allá de la conciencia representativa que rige los modelos médicos y «psi». El eje que atraviesa este trabajo y define su campo de investigación, sostiene la diferencia entre la que se puede llamar la clínica de la mirada o de la enfermedad, que plantean la psiquiatría, gran parte de la psicología y sus modelos psicoterapéuticos a la hora de abordar el malestar humano, y la clínica de la palabra y la escucha, donde el relato del sujeto es la materia prima sin la cual no hay posibilidad de tratamiento, como así lo considera la clínica psicoanalítica. Finalmente se trabajará el lugar que ocupa el Acompañamiento Terapéutico en un tratamiento y las diferentes modalidades de implementación clínica del mismo. El dispositivo de Acompañamiento Terapéutico. El Acompañamiento Terapéutico es un dispositivo que podríamos llamar de externación asistida, esto es, una modalidad de atención fuera de los muros de las instituciones psiquiátricas, que desde una perspectiva clínica y socio-comunitaria brinda atención clínica y contención a pacientes con problemas o trastornos psíquicos y apoyo a sus propias familias, que en general se encuentran desbordadas ante la emergencia de una patología psíquica en alguno de sus miembros. El acompañamiento se realiza bien en el domicilio o en los centros donde el paciente esté ingresado, y contempla, dependiendo de cada caso, salidas de ocio, visitas familiares, citas médicas, gestiones, actividades educativas, de reinserción laboral, entre otras. [ABSTRACT] This research project addresses some of the problems faced by those working in the field of "mental health" and explores the clinical possibilities offered by the inclusion of the clinical method of therapeutic accompaniment in psychological and psychiatric care. The study looks at those cases where inclusion of this clinical device as a working tool may contribute to containment of the patient as well as the construction and continuity of treatment. We begin with a review of the clinical and epistemological framework and underpinning of therapeutic accompaniment. Our review includes Sigmund Freud's psychoanalytic theory and the contributions of members of the psychoanalytic movement that have enriched it. We examine research on the problems of the group and on link theory, whose main reference point is the work of Pichon Rivière. Finally, we review the perspectives offered by existential analysis on the question of being, temporality and the everyday world beyond representative consciousness that governs medical and psychiatric models. A central concept of this study is the difference between what can be called the clinical approach of observation or of illness, which informs psychiatry and much of psychology as well as its psychotherapeutic models when addressing human discomfort, and the clinical approach of talking and listening, where the subject's story is the raw material without which there is no possibility of treatment, as the psychoanalytic approach understands it. Finally, we examine the role of therapeutic accompaniment in treatment and its different methods of clinical implementation The therapeutic accompaniment method. Therapeutic accompaniment could be described as assisted external treatment, that is, a form of care outside the walls of psychiatric institutions. From a clinical and socio-community perspective, this provides care and containment of patients with mental disorders as well as support for their families, who are usually overwhelmed by the emergence of a psychic pathology in one of their relatives. The accompaniment is performed either at home or in the centre where the patient is admitted and, depending on circumstances, includes; leisure trips, family visits, medical appointments, administrative tasks, educational activities, vocational reintegration, among other activities.
Description
Tesis inédita de la Universidad Complutense de Madrid, Facultad de Filosofía, Departamento de Filosofía IV, leída el 26-09-2013
Collections