Publication:
Shared embarrassment: (not) talking about sex in HIV related doctor-patient encounters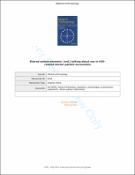 Authors
Advisors (or tutors)
Editors
Abstract
Prevention with positives (PP) has occupied a central role in HIV prevention strategies since the introduction of effective therapies. International guidelines present counselling in medical settings as an ideal strategy for promoting safer sex practices among people with HIV and AIDS. Nevertheless, anthropologists and other social scientists have long been putting under intense scrutiny dimensions of power and conflict in the doctor - patient relationship. In this article, PP is analyzed as a biopolitical technology, part of the larger framework of Public Health as a governmental project. Given the present redefinition of HIV prevention priorities amid a deep economic crisis in Spain, it has become urgent to ask to what extent and how sex and prevention becomes an issue in real face to face interaction, and with what effect: what role PP and its absence play in configuring both the "HIV doctor" and the 'person with HIV' as specific subjectivities.
Collections