Publication:
Iconología de la liturgia cristiana medieval: métodos visuales y propuestas teóricas emergentes desde la Historia del Arte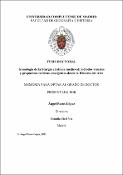 Authors
Advisors (or tutors)
Editors
Publisher
Universidad Complutense de Madrid
Abstract
Esta tesis doctoral plantea un acercamiento a la imagen litúrgica cristiana de la Edad Media a partir de las corrientes metodológicas e interpretativas de la historia del arte. En el presente estudio se pretenden analizar las claves teóricas necesarias para el establecimiento de una iconología de la liturgia medieval, que serán aplicadas de forma práctica a un limitado corpus de obras de arte visual, posibilitando nuevas lecturas interpretativas en clave litúrgica. Sin ánimo de una profusa exhaustividad, la propuesta se concibe como el inicio de una línea de investigación que transite desde los estudios rituales hasta los planteamientos más actuales de la historia del arte, la iconografía y la cultura visual de la Edad Media, con una futura aplicabilidad en múltiples imágenes, objetos y artefactos culturales. Para ello y, en primer lugar, se analizan las principales dimensiones conceptuales en la comprensión de la liturgia medieval desde la historia del arte. En este sentido, se definen términos esenciales para el conocimiento del funcionamiento del ritual cristiano, desde las nociones de ritualidad, liturgia y devoción, hasta las fronteras cronológicas y geográficas de las tradiciones litúrgicas, atendiendo especialmente al concepto de diversidad y pluralidad ritual entre las diferentes culturas de Oriente y Occidente. De forma paralela, se profundiza en la dimensión del tiempo litúrgico medieval –que condiciona el comportamiento de los hombres ante los ritos– y organiza el año, los tiempos, los días y las horas. Además, la codificación del espacio sagrado en relación con sus usos litúrgicos a través de la Edad Media propicia el surgimiento de nuevos lugares en la liturgia a través de épocas y ubicaciones geográficas...
This doctoral thesis proposes an approach to the Christian liturgical image of the Middle Ages from the methodological and interpretative principles of the History of Art. The present study aims to analyze the theoretical keys necessary for the establishment of an Iconology of the Medieval Liturgy, which will be applied in a practical way to a limited corpus of works of visual art, enabling new interpretative readings from the liturgical perspective. Avoiding being profusely exhaustive, the proposal is conceived as the beginning of a line of research that goes from ritual studies to the most current approaches in the History of Art, Iconography, and Visual Culture of the Middle Ages, with future applicability in multiple images, objects, and cultural artefacts. Firstly, the main conceptual dimensions in the understanding of medieval liturgy from the history of art are analyzed. In this sense, essential terms are defined to understand the functioning of the Christian ritual: from the notions of rituality, liturgy and devotion, to the chronological and geographical borders of liturgical traditions. Special attention to the concept of ritual diversity and plurality among the different Eastern and Western cultures will be paid. At the same time, the research delves into a dimension of the medieval liturgical time –which conditioned the men's behaviour in the face of rites, and organized the year,days and hours. Furthermore, the codification of the sacred space concerning its liturgical uses throughout the Middle Ages fostered the emergence of new places in the liturgy across time and geographic locations...
Description
Tesis inédita de la Universidad Complutense de Madrid, Facultad de Geografía e Historia, leída el 08-01-2021. Tesis retirada por expreso deseo del autor.
Collections