Publication:
Los Ciclos de Formación Profesional Básica (FPB) en los centros educativos de la ciudad de Salamanca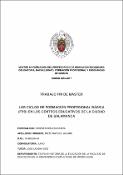 Authors
Advisors (or tutors)
Editors
Abstract
El Consejo Europeo de Lisboa (2000) supuso un avance transcendental para la Educación y la Formación (2010), estableciendo como prioridad, en 2010, reducir las tasas de abandono educativo temprano y promover la inserción laboral. En este misma línea se continúa trabajando dentro del Marco Estratégico para la Cooperación Europea en el ámbito de la Educación y Formación (ET, 2020). España, a través de la Ley Orgánica para la Mejora de la Calidad Educativa (LOMCE, 2013), impulsa los Ciclos de Formación Profesional Básica (FPB) con el objeto de facilitar el acceso a los Ciclos Formativos de Grado Medio (CFGM) y al mercado laboral, y para frenar el porcentaje de abandono educativo temprano. El objetivo principal de nuestro trabajo es valorar los cambios actitudinales y competenciales que la FPB promueve en los estudiantes que la cursan en los centros educativos de la ciudad de Salamanca. Para ello, trabajaremos una metodología mixta, cuantitativa y cualitativa, por medio de cuestionarios (Cuestionario AFA-A y Cuestionario para el Profesorado) y entrevista individual. Contando con la colaboración de los estudiantes y de los profesores que imparten en los ciclos de FPB. Los resultados de nuestro trabajo revelan, a pesar de las diversas problemáticas que encontramos en el funcionamiento de estos ciclos, una percepción positiva de su utilidad para mejorar la formación en un importante número de estudiantes, contribuyendo a la superación en los ámbitos personal, profesional y laboral.
The Lisbon European Council (2000) represented a central advance for Education and Training (2010), prioritizing the reduction of early dropout rates and promotion of job placement. Spain, through the Organic Law for the Improvement of Educational Quality (LOMCE, 2013), promotes the Basic Vocational Training (FPB) cycles in order to facilitate access to the Medium Level Training Cycles (CFGM) and to the Labor Market, and to curb the percentage of early school dropout. The main objective of our work is to evaluate attitudinal and competence changes that the FPB has promoted in students who attend it in educational centres of the city of Salamanca. A mixed methodology (including quantitative and qualitative measures), namely the AFA-A Questionnaire (CITA) and structured interviews, was applied to students and teachers in FPB cycles of the city of Salamanca. The results of our work reveal, despite the various problems encountered in the operation of these cycles, a positive perception of its usefulness to improve training in a large number of students, contributing to the improvement in the personal, professional and work areas.