Publication:
Exportación de calzado a Miami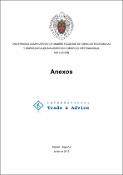 Advisors (or tutors)
Editors
Abstract
El objetivo de este proyecto es mostrar el desarrollo de una operación de comercio exterior cuyo fin es la exportación de calzado de piel de mujer desde España con destino Miami (EE.UU.). International Trade & Advice, marca bajo la cual opera Global Trade and Advice S.L.F.S. es una empresa que ofrece sus servicios de asesoramiento e intermediación en operaciones de import-export. En esta operación, el importador Suela Spain S.L. ha firmado un contrato de agencia con Global Trade and Advice S.L.F.S. y a su vez un acuerdo de compraventa internacional con el distribuidor/importador en Miami, Olem Shoe Corporation. Entre los pasos seguidos para poder llevar a cabo la operación global se ha decidido realizar una exportación por vía aérea de la mercancía. La mercancía se envía paletizada y cubierta con un seguro para el transporte y bajo el Incoterm 2010 CIP Aeropuerto de Miami. Así mismo, la financiación de la operación se ha llevado a cabo de acuerdo a las exigencias de ambas partes mediante un pago anticipado cubierto con una garantía de pago anticipado y el resto del pago cubierto mediante un crédito documentario Standby. Como resultado, todas las partes participantes han obtenido un beneficio económico que demuestra el éxito de la operación.
The objective of this project is to show an international trade transaction, consisting of the export of women's leather shoes from Spain to Miami (USA). International Trade & Advice, the commercial name of Global Trade and Advice S.L.F.S., is an enterprise that offers consulting and intermediation services in import-export transactions. In this operation, the importer Suela Spain S.L. has signed an agency contract with Global Trade and Advice S.L.F.S. as well as an international sales and purchase agreement with the distributor/importer in Miami, Olem Shoe Corporation. For this transaction we decided on export by air. The goods are shipped on pallets, covered by transport insurance, and under the Incoterm 2010 CIP Miami International Airport. At the same time, the operation was financed in accordance with the requirements of both parties. This was by means of an advanced payment, covered by an advanced payment guarantee, with the outstanding balance covered by a Letter of Credit. The transaction was mutually beneficial to both parties, as demonstrated by the success of the operation.
Citation
BERNALDO, Enrique. Clasificación Arancelaria de Mercancías. 01 Claves de Comercio Exterior. Madrid. 2014. 4ta Edición. Grupo Taric. OSSA, Antonio. Origen de las Mercancías, Manual Práctico. 07 Claves de Comercio Exterior. 2009. 1ra Edición. Grupo Taric.