Publication:
A Beyond Mean Field study of Bose gases in a double-well potential with a Feshbach resonance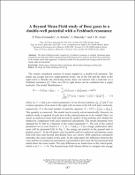 Advisors (or tutors)
Editors
Publisher
American Institute of Physics (AIP)
Abstract
The Bose-Hubbard model coupled to a Feshbach resonance is studied. Quantum phase transitions are analyzed within a beyond mean field framework in order to get finite size corrections to the simple mean field approach. Analytical results for the ground state energy and the first few energy gaps are presented.
Description
© 2013 AIP Publishing. La Rabida 2012 International Scientific Meeting on Nuclear Physics (2013. La Rábida (España).
Citation
1. See for a recent review, D. Jaksch and P. Zoller, Ann. Phys. 315, 52 (2005). 2. S. Pethick, Bose-Einstein Condensation in Dilute Gases, Cambridge, 2002. 3. J. P. Blaizot and G. Ripka, Quantum Theory of Finite Systems, The MIT Press, 1986. 4. A. Relaño, J. Dukelsky, P. Pérez-Fernández, and J.M. Arias, to be published.
Collections