Publication:
Nuevos trabajos sobre el manuscrito de la Biblia en griego BH MSS 22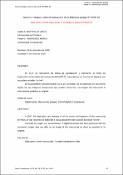 Advisors (or tutors)
Publisher
Biblioteca Histórica U.C.M.
Abstract
En 2017, se reanudaron las tareas de digitalización y ordenación de todos los fragmentos conservados del manuscrito BH MSS 22, para elaborar un documento digital al que se pudiera acceder "on line". En la actualidad el proyecto puede darse por concluido. Se ha elaborado un documento digital con las imágenes recuperadas que pueden ofrecernos una imagen del manuscrito lo más cercana posible a su original.
In 2017, the digitization and ordering of all the conserved fragments of the manuscript BH MSS 22 was resumed, to elaborate a digital document that could be accessed "online". Currently the project can be terminated. A digital document has been produced with the recovered images that can offer us an image of the manuscript as close as possible to its original.
Collections