Publication:
Tratamiento farmacológico del insomnio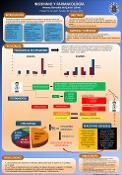 Authors
Advisors (or tutors)
Editors
Abstract
El insomnio es el trastorno del sueño más frecuente en la población adulta y es a su vez uno de los motivos de consulta más habituales tanto en medicina de atención primaria como en oficina de farmacia. Es una patología multifactorial y casi siempre se asocia con problemas diurnos de menor o mayor gravedad, razón por la cual es muy importante el abordaje del tratamiento desde todos los niveles. A lo largo de este trabajo se clasificarán los tipos de insomnio con más prevalencia en función de la edad y del sexo, las causas de aparición y hábitos rutinarios para evitar padecerlo. Se describirán además características y eficacia de los principales fármacos empleados para su tratamiento (benzodiacepinas), así como los problemas derivados de una administración prolongada y el papel que como experto en medicamentos tiene el farmacéutico en relación a esta patología.
The insomnia is the most frequent sleep disorder in the adult population and is in turn one of the more habitual motives of consultation both in medicine of primary care and in office of drugstore. It is a pathology multifactorial and almost always it associates with diurnal problems of minor or major gravity, reason for which the boarding of the treatment is very important from all the levels. Along this work the types of insomnia will qualify with more prevalence depending on the age and the sex, the routine reasons of appearance and habits to avoid to suffer it. There will be described in addition characteristics and efficiency of the principal medicaments used for his treatment (benzodiazepines), as well as the problems derived from a long administration and the paper that as expert in medicines the pharmacist has in relation to this pathology.