Publication:
A proposal of a Monte Carlo renormalization group transformation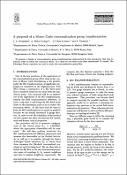 Advisors (or tutors)
Editors
Abstract
We propose a family of renormalization group transformations characterized by free parameters that may be tuned in order to reduce the truncation effects. As a check we test them in the three dimensional XY model. The Schwinger-Dyson equations are used to study the renormalization group flow.
Description
© 1995 Elsevier Science B.V. International Symposium on Lattice Field Theory (LATTICE 94) (12. 1994. Bielefeld, Germany). We acknowledge CICyT for partial financial support with the projects AEN93-0604, AEN93-0776 and AEN94-218. One of us (JJRL) is granted by MEC (Spain).
Collections