Publication:
Los retratos de Miguel de Cervantes: de la búsqueda del hombre al triunfo del mito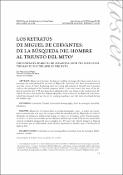 Advisors (or tutors)
Editors
Abstract
Miguel de Cervantes tiene su propio imaginario, pero ¿a quién corresponden los retratos que a lo largo del tiempo se han ido descubriendo de Miguel de Cervantes? Partiendo del retrato en palabras del propio Cervantes en el prólogo de las Novelas ejemplares (1613), se hace un recorrido por los distintos retratos que desde 1738 se han presentado como la verdadera imagen del autor complutense. Un recorrido sobre la imagen de Miguel de Cervantes que ha dado forma visual al mito, superando al hombre que vivió durante el Siglo de Oro.
Miguel de Cervantes has his own gallery of images that have come down to posterity, but who painted the portraits of Miguel de Cervantes that have been discovered over the course of time? Beginning with the verbal self-portrait of himself that Cervantes crafts in the prologue of his Novelas ejemplares (1613), this study traces the route of the different portraits sine 1738 that have been claimed as the true image of the author from Alcalá de Henares. It is a path that follows along the character known as Miguel de Cervantes, which has imposed itself on the myth, taking precedence over the man who lived during the Golden Age.
Collections