Publication:
Grabado sostenible. Experiencias y prácticas de mediación educativa en Primaria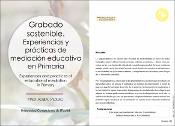 Authors
Advisors (or tutors)
Editors
Publisher
Universidad Jaume I de Castellón
Abstract
La responsabilidad de educar bajo modelos de sostenibilidad es tarea de todos. Conceptos como medio ambiente, ecología, entorno, ecosistema,… deben estar presentes en las enseñanzas del niño desde la más temprana edad. Así pues centramos nuestra práctica en la Educación Primaria con el objetivo de concienciar del detrimento medioambiental y fomentar actitudes y comportamientos favorables para el logro de un desarrollo sostenible. Para ello proponemos utilizar uno de los procedimientos artísticos que se realizan con menos frecuencia en el aula, el grabado y las técnicas de estampación. A través de procesos que fomentan el desarrollo de la atención, la percepción, la imaginación y la creatividad de forma responsable, trabajaremos las posibilidades tecnológicas que ofrecen las técnicas gráficas más novedosas, el uso de los fotopolímeros en el aula. La elaboración de dibujos para ser procesados con procedimientos "menos tóxicos" nos permitirá lograr conductas de sensibilización en cuanto a una educación ambiental para la sostenibilidad.
The responsibility of educating using sustainable models is everyone´s task. Concepts such as the environment, ecology, our surroundings, the eco-system.......should be present in a child´s educaction from a very early age. For this reason Primary Education is the focus for our work with the aim of raising awareness of the deterioration of the environment whilst promoting attitudes and behaviours conducive to the attainment of sustainable development. In order to do this we propose using one of the artistic procedures less frequently used in the classroom, engraving and etching techniques. Through processes which encourage the development of attention, perception, imagination and creativity in a responsible manner, we will work using the technological possibilities offered by the most innovative graphic techniques which are the use of photopolymers in the classroom. The preparation of drawings to be processed using "less toxic" procedures will allow us to achieve conducts sensitized to sustainability through environmental education.
Collections