Publication:
Vacunas frente a la neosporosis: nuevos adyuvantes y dianas vacunales y mejora de los modelos murinos experimentales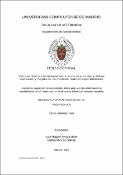 Files
Authors
Advisors (or tutors)
Editors
Publisher
Universidad Complutense de Madrid
Abstract
Neospora caninum es un parasito intracelular, formador de quistes, considerado como una de las principales causas de fallo reproductivo en el ganado bovino y, por tanto, responsable de importantes pérdidas económicas en la industria bovina tanto de leche como de carne. Uno de los principales retos de los investigadores en este campo, es el desarrollo de vacunas seguras, eficaces y económicamente viables que protejan del aborto y de la transmisión vertical del parásito. Para ello, es de gran importancia la selección de antígenos capaces de inducir una respuesta inmunitaria en el hospedador frente al parásito. Sin embargo, aunque las técnicas más novedosas para el estudio del genoma y del proteoma de N. caninum han permitido identificar nuevos candidatos que podrían estar involucrados en la virulencia del parásito, los mecanismos dependientes del parásito y del hospedador implicados en el desarrollo de una respuesta inmunitaria eficaz no han sido descritos aún. En este contexto, el empleo de antígenos implicados en la multiplicación, diseminación y acantonamiento del parásito en órganos inmunoprivilegiados capaces de inducir una respuesta inmunitaria, junto con nuevos sistemas de adyuvantación es en la actualidad, uno de los abordajes más atractivos en el desarrollo de vacunas de nueva generación frente a la infección por N. caninum. Sin embargo, los estudios de seguridad y eficacia vacunal deben emplear modelos experimentales adecuados a los parámetros a evaluar. En este sentido, los modelos murinos no gestantes y gestantes se han utilizado, como prueba de concepto, para el cribado de formulaciones vacunales, lo cual es recomendable antes de su empleo en la especie de destino...
Neospora caninum is an intracellular cyst forming parasite, considered as a major cause of reproductive failure in cattle and therefore responsible for significant economic losses in the milk and meat cattle industry. The main challenge for researchers is to develop a safe, effective and economically viable vaccine in order to prevent abortion and vertical transmission of the parasite. Thus, the selection of antigens capable of inducing a protective immune response against the parasite in the host is of great importance. Although the newest techniques for the study of the genome and the proteome of N. caninum have identified new candidates that might be involved in the virulence of the parasite, the parasite- and host- mechanisms involved in the development of an effective immune response have not yet been described. In this context, the use of inmunogenic antigens involved in the parasite proliferation, dissemination and persistence within immune privileged tissues, along with new adjuvant systems, are currently one of the most attractive approaches in the development of new generation vaccines against N. caninum. However, it is important to employ suitable experimental models for the evaluation of safety and efficacy of vaccine formulations in accordance with the studied parameters. In this sense, the pregnant and non pregnant mouse models have been used, as a proof of concept, for the vaccine formulations screening prior to their use in the target species...
Description
Tesis inédita de la Universidad Complutense de Madrid, Facultad de Veterinaria, Departamento de Sanidad Animal, leída el 20/03/2013. Tesis formato europeo (compendio de artículos).
Collections