Publication:
Hollóko: a Hungarian case study for the fruitful cooperation of locals and professionals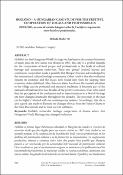 Authors
Advisors (or tutors)
Editors
Publisher
Universidad Complutense de Madrid, Servicio de Publicaciones
Abstract
Hollókő, the first Hungarian World Heritage site, has been in the center of attention of many since its new status was elected in 1987. This city is a perfect example for the cooperation of local people and professionals in the fields of cultural heritage and monument protection. These two groups' fruitful, intense and continuous cooperation made it possible that Hungary became acknowledged by the international cultural heritage community. Other result is that the settlement ensures its existence and the locals have found new ways for keeping their economic status stabilized. Also, this new status has drawn the tourists' attention to the village and its protected and practiced traditions. It becomes part of the national cultural narrative too. Besides all the positive outcomes, it has to be noted that the perception of the settlement and its transformation to a World Heritage site have changed drastically throughout the decades. The processes in the past can be highly criticized with our contemporary notions. Accordingly, this site is also a good case study to illustrate the changes of focus from the Venice Charta to the Nara Documents and its most current additions.
Hollókö, el primer lugar Patrimonio Mundial en Hungría, ha estado en el centro de atención desde que fue elegido para ese nuevo estatus en 1987. Esta ciudad es un ejemplo perfecto de la cooperación de la población local y los/as profesionales en los ámbitos del patrimonio cultural y de la protección de monumentos. La cooperación productiva, intensa y continua entre estos dos grupos hizo posible que Hungría pasara a ser reconocida por la comunidad internacional de patrimonio cultural. Otro resultado es que el asentamiento asegura su existencia y la población local ha encontrado nuevas formas de mantener estable su estatus económico. Asimismo, este nuevo estatus ha guiado la atención de los turistas hacia el pueblo y sus tradiciones protegidas y practicadas. Se vuelve parte de la narrativa cultural nacional también. Además de todos los resultados positivos, debe ser indicado que la percepción del asentamiento y su transformación en un lugar Patrimonio Mundial ha cambiado drásticamente a lo largo de las décadas. Los procesos en el pasado pueden ser altamente criticados con nuestras nociones contemporáneas. De acuerdo con ello, este lugar es también un buen caso de estudio para ilustrar los cambios de atención desde la Carta de Venecia hasta los Documentos de Nara y sus aportaciones más actuales.
Collections