Publication:
Las traducciones en la revista "Cántico" (1947-1949 y 1954-1957):fragmentos, dislocaciones y dinámicas culturales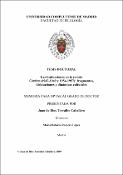 Files
Authors
Advisors (or tutors)
Editors
Publisher
Universidad Complutense de Madrid
Abstract
Esta tesis doctoral estudia las traducciones en la revista Cántico, en su primera época (1947-1949) y en su segunda época (1954-1957) con el objetivo general de catalogar los fragmentos poéticos traducidos en la revista cordobesa interpretándolos como puentes o relaciones interculturales. Se trata, por lo tanto, de un estudio de todas las traducciones en la publicación Cántico, en sus dos épocas y en todos los idiomas.De manera preliminar, se plantean los trabajos que hemos encontrado al respecto para así configurar el estado de la cuestión donde se aduce la necesidad de esta investigación puesto que, aunque existen estudios realizados sobre el Grupo Cántico, en lo que atañe a las traducciones tales estudios son parciales y bastante escasos. Losobjetivos trazados son, junto a la catalogación de las traducciones en las páginas de Cántico, el estudio de las mismas, el cruce de los datos obtenidos, la búsqueda de información sobre autores menores, la documentación sobre los traductores y sobre las traductoras, el análisis del contenido respecto a los posibles conflictos con la censura,incluso una prospección sobre la tópica.
This doctoral thesis studies the translations appearing in the journal Cántico, during its first period (1947-1949) and its second (1954-1957) with the generalo bjective of cataloguing the fragments of poetry translated in the Cordoban publication, interpreting them as intercultural bridges or relationships. It is, therefore, a study of all the translations in Cántico, during both its periods, and in all its different languages. Firstly, the works that we have found corresponding to the subject at hand are presented in order to establish the history of their academic study, it being adduced that, although work has been produced on the Grupo Cántico, with regards to its translations, studies have been scant and incomplete. The objectives set out are, then, in addition to cataloguing the translations in the pages of Cántico, to study them, compare the information obtained from their examination, search for information on lesser known authors, document the translators, male and female, whose works appeared; analyse the contents with a view to possible conflicts with censorship, and explore the themes of the works published...
Description
Tesis inédita de la Universidad Complutense de Madrid, Facultad de Filología, leída el 10-07-2019
Collections