Publication:
Virtual space: didáctica y docencia virtuales para y en el museo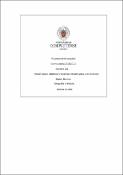 Advisors (or tutors)
Editors
Abstract
Se ha desarrollado el estudio de las posibilidades ofrecidas en diferentes plataformas de la red para el desarrollo del ejercicio práctico del comisariado de exposiciones por medio de instrumentos virtuales.
È stato sviluppato lo studio delle possibilità offerte in diverse piattaforme della rete per lo sviluppo dell'esercizio pratico di curare mostre attraverso strumenti virtuali.
The study of the possibilities offered in different platforms of the network for the development of the practical exercise of curating exhibitions through virtual instruments has been developed.
L'étude des possibilités offertes par les différentes plateformes du réseau pour le développement de l'exercice pratique de la conservation d'expositions au moyen d'instruments virtuels a été développée.
Die Untersuchung der auf verschiedenen Plattformen des Netzwerks angebotenen Möglichkeiten zur Entwicklung der praktischen Übung des Kuratierens von Ausstellungen mit virtuellen Instrumenten wurde entwickelt.