Publication:
Protocolización del tratamiento con gammaglobulinas en el paciente con malignidad hematológica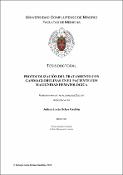 Files
Authors
Advisors (or tutors)
Editors
Publisher
Universidad Complutense de Madrid
Abstract
La inmunodeficiencia secundaria (IDS) a malignidad hematológica (MH) representa un problema de salud y un reto importante debido a la alta tasa de morbimortalidad asociada a infecciones recurrentes y graves en estos pacientes, siendo el prototipo de IDS la leucemia linfática crónica (LLC) y el mieloma múltiple (MM). En 1980, se propuso la evaluación de producción de anticuerpos específicos, polisacáridos – tras vacunación antineumocócica 23-valente (PPV-23) y proteicos - tras vacunación anti-tetánica (TT) u otras -, como predictor del riesgo de infección y, por tanto, como guía para la indicación de la terapia sustitutiva con inmunoglobulinas (TSIg). Sin embargo, ha sido en 2019 que la Agencia Europea del Medicamento (EMEA) ha introducido esta evaluación del déficit de producción de anticuerpos como criterio del inicio de la TSIg, abriendo la indicación a cualquier paciente con IDS, que incluye otras MH como el linfoma no Hodgkin (LNH) o la gammapatía de significado incierto (GMSI). Debido a la complejidad de la interpretación de la respuesta vacunal específica frente a polisacárido neumocócico tras la introducción de la vacuna antineumocócica conjugada 13-valente (PCV-13) en el esquema de inmunización, nuestro grupo y diversos autores han propuesto la evaluación de la respuesta de IgG específica frente al polisacárido puro de S. typhi (TV) como biomarcador de riesgo de infección complementario a PCV-13 y TT en inmunodeficiencia primaria (IDP)...
Secondary immunodeficiency (SID) due to hematological malignancy (HM) represents a health problem concern and an important challenge due to high rate of morbidity and mortality associated with recurrent and severe infections. Initial assessment of specific antibody (Ab) responses – after polysaccharide 23-valent pneumococcal (PPV-23) and tetanus toxoid (TT) protein vaccine- in HM was proposed in the 80's as a more reliable predictor of infections to start immunoglobulin replacement therapy (IgRT). Patients affected by hematological malignancy, in particular chronic lymphocytic leukemia (CLL) and multiple myeloma (MM), were recognized as presenting Ab production deficits many years ago. However, it was not until 2019 when a new indication of the European Medicines Agency (EMA) has included the defect of specific Ab response as an indication for IgRT in SID with recurrent infections, allowing the inclusion of other HM patients, such as non-Hodgkin's lymphoma (NHL) or gammopathy of uncertain significance (MGUS). However, interpretation of pure polysaccharide 23-valent immunization is hampered by the high endemicity of pneumococcal disease and the generalization of the 13-valent adjuvant pneumococcal vaccination (PCV-13). Specific IgG anti-Salmonella typhi Ab response has been proposed as a biomarker of risk of infection complementary to PCV-13 and TT in primary immunodeficiency (PID)...
Description
Tesis inédita de la Universidad Complutense de Madrid, Facultad de Medicina, Departamento de Inmunología, Otorrinolaringología y Oftalmología, leída el 15-07-2021
Collections