Publication:
Estudio de factores que permitan la estratificación del riesgo de leucoencefalopatía multifocal progresiva en pacientes con esclerosis múltiple candidatos a recibir tratamiento con Natalizumab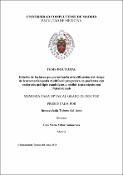 Files
Authors
Advisors (or tutors)
Editors
Publisher
Universidad Complutense de Madrid
Abstract
El riesgo de desarrollar leucoencefalopatía multifocal progresiva (LMP), una infección oportunista causada por el virus John Cunningham (JC), restringe el uso del natalizumab (NTZ), un tratamiento altamente eficaz para la esclerosis múltiple (EM). La presencia de anticuerpos anti-JC, la inmunosupresión previa y la duración del tratamiento se han identificado como variables que contribuyen a estratificar el riesgo de LMP. Sin embargo, se ha prestado menos atención al estado inmunológico del paciente. Este hecho es sorprendente, ya que la aparición de la LMP se suele asociar con una respuesta inmune comprometida. En esta línea, se ha descrito que, en pacientes con una EM con baja actividad inflamatoria, que se asocia con una ausencia de bandas oligoclonales IgM lípido-específicas (BOCM-LE) en líquido cefalorraquídeo (LCR), presentan un mayor riesgo de desarrollar LMP de manera secundaria al tratamiento con NTZ. Este hecho podría explicarse debido a que el NTZ actúa como un potente antiinflamatorio, pudiendo inducir una inmunosupresión excesiva en pacientes con un curso de EM más benigno. Para evaluar esta asociación, exploramos si las variables clínicas y demográficas asociadas con el curso de la EM pueden contribuir a identificar a los pacientes con un riesgo bajo de LMP antes del inicio del tratamiento con NTZ...
The risk to develop progressive multifocal leucoencephalopathy (PML), an opportunistic infection caused by the John Cunningham (JC) virus, restricts the use of Natalizumab, a very efficient treatment for multiple sclerosis (MS). The presence of anti-JC antibodies, prior immunosuppression and treatment duration, were identified as variables that contribute to stratify PML risk. However, the patient´s immunological status hasn´t been considered. This is surprising, since the appearance of PML commonly associates with a compromised immune response. In this line, it was reported that to having a low inflammatory disease, revealed by the absence of lipid specific oligoclonal IgM bands (LS-OCMB) in cerebrospinal fluid (CSF), increases PML risk. This may indicate that natalizumab, a potent anti-inflammatory therapy, may induce an excessive immunosuppression in more benign MS patients. To assess this, we explored if clinical and demographic variables associated with MS course may contribute to identify those patients with a low risk to develop PML before treatment onset...
Description
Tesis inédita de la Universidad Complutense de Madrid, Facultad de Medicina, Departamento de Microbiología I, leída el 29-10-2019
Collections