Publication:
Estudio comparado del régimen de responsabilidad del porteador en las reglas de la Haya-Visby, las Reglas de Hamburgo, Las Reglas de Rotterdam y en la Ley 14/2014, de navegación marítima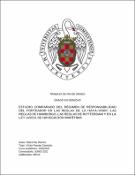 Authors
Advisors (or tutors)
Editors
Abstract
Este trabajo se presenta como un estudio comparativo de las distintas regulaciones internacionales que se ocupan de la responsabilidad del porteador en los contratos internacionales de transporte marítimo, así como también de la actual Ley 14/2014 de la Navegación Marítima. La comparación se realiza sobre la base de seis puntos principales de análisis a partir de los cuales concluiremos las modificaciones y novedades que aporta cada convenio internacional o la Ley de Navegación Marítima; los seis aspectos de estudio son: i. La figura del porteador ii. El ámbito de aplicación iii. Las obligaciones del porteador iv. El periodo de responsabilidad v. La responsabilidad del porteador por pérdida o daño en la mercancía como en el retraso en su entrega, y vi. La limitación económica de la responsabilidad.
This paper is presented as a comparative study of the different international regulations dealing with the carrier's liability in international contracts of carriage by sea, as well as the current Maritime Navigation Act 14/2014. The comparison is carried out on the basis of six main points of analysis from which we will conclude the modifications and novelties brought by each international convention or the Maritime Navigation Act; the six aspects of study are: i. The figure of the carrier ii. The scope of application iii. The obligations of the carrier iv. The period of liability v. The carrier's liability for loss of or damage to the goods as well as for delay in delivery, and vi. The economic limitation of liability.