Publication:
La gestión intergubernamental orientada a resultados en México: el caso de la prueba enlace en Guanajuato, Jalisco y Puebla, 2006-2014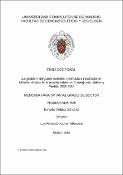 Files
Authors
Advisors (or tutors)
Editors
Publisher
Universidad Complutense de Madrid
Abstract
La tesis se centra en indagar la eficacia del uso de información de desempeño comomecanismo de dirección del gobierno federal hacia los gobiernos estatales mexicanos.Para esto se aprovecha la denominada Prueba ENLACE, que fue un examen nacionalestandarizado aplicado entre 2006 y 2013 a primaria y tercero de secundaria en su primermomento, incluyendo posteriormente primero y segundo, y en media superior entre 2008y 2014. El diseño de la investigación se planteó como un estudio de caso de una unidadde análisis (la dirección intergubernamental con base en los resultados de la pruebaENLACE), con tres unidades de observación que son las secretarias de educación desendos estados mexicanos, a saber, Guanajuato, Jalisco y Puebla. Para el desarrollo de lainvestigación se realizó un marco analítico conceptual, con base en una revisión de laliteratura. El análisis de estos datos se fundó en la comparación de los mismos con dichomarco, en un esfuerzo de parear patrones (pattern matching), es decir, comparar lospatrones derivados de la información empírica con los predichos por la literatura...
In complex public policy environments, where the interrelations between actors are keyto achieving the desired objectives, the federal regimes are subject to criticism about theirability to achieve collective results of value to society. The research herby presentedfocuses on the efficacy of the use of performance information as a steering mechanism ofthe federal Government toward the Mexican State Governments. This is achieved bymeans of inducing the use of the results of a standardized test in decision-making by thesubnational secretariats (ministries) of education. The research looks into the factors thatare drivers and inhibitors in achieving this. The case study is based on the experience ofthe test named ENLACE, which was a standardized national exam applied between 2006and 2013 in primary and secondary schools, and from 2008 to 2014 in high school. Threeobservation units were selected which are the ministries of education of three MexicanStates, namely, Guanajuato, Jalisco and Puebla. An analytical framework is presented,based on a literature review and it was use to process the information gathered by aprocess of pattern matching, i.e. compare the evidence derived from the empirical datawith predictions from the literature...
Description
Tesis de la Universidad Complutense de Madrid, Facultad de Ciencias Políticas y Sociología, leída el 22-06-2017
Collections