Publication:
Factores determinantes de las decisiones de jubilación y valoraciones sobre la gestión de la edad en las empresas del sector energético español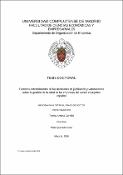 Files
Authors
Advisors (or tutors)
Editors
Publisher
Universidad Complutense de Madrid
Abstract
Las sociedades en el mundo desarrollado se enfrentan con uno de los retos más importantes que se les han presentado en los últimos años: el envejecimiento de su población. Las empresas se encuentran con un grupo relevante de empleados de la mayor generación que haya existido nunca, la que se dio en llamar "generación del baby boom", están próximos a la jubilación. Si bien la literatura nos muestra que, si bien, no va a haber escasez de recursos humanos en general, sí se producirá en puestos en los que se requiera mayor cualificación y experiencia. Faltarán, por tanto, recursos cualificados en todos los países desarrollados. En estas circunstancias, las empresas tienen la necesidad de gestionar sus plantillas de modo que la edad o la proximidad a la jubilación de sus trabajadores sea un parámetro significativo. Es necesario que se identifiquen los individuos que atesoran conocimientos y habilidades que se consideren clave, se debe conocer en qué banda de edad están las personas que atesoran ese conocimiento clave y se tendrían que conocer cuáles son sus intenciones frente a la jubilación más o menos cercana, con el objeto de planificar su abandono de la empresa o, por el contrario, intentar disuadirles de sus intenciones. Las decisiones sobre la jubilación requieren de largos períodos de maduración. Por ello es necesario crear un marco que permita predecir las decisiones respecto a la jubilación y gestionar correctamente los recursos con la suficiente antelación. Para que todo ello sea posible es necesario el establecimiento de una regulación laboral que facilite la prolongación de la vida laboral de estos empleados...
Developed societies face one of the most important challenges that have been presented to them in recent years: an ageing population. Companies are now finding that a significant group of their employees nearing retirement age, belong to the largest generation that has ever lived, "baby boomers. While the literature shows that, although there will be no shortage of human resources in general, many baby boomers occupy positions where higher qualifications and experience are required. Therefore all developed countries will suffer a lack of qualified human resource. Retirement decisions require a long maturation period. Therefore it is necessary to create a framework to predict retirement decisions and properly manage human resources sufficiently in advance. In this way a labour framework, conducive to longer working lives of these employees, can be set up. All these considerations were taken as a starting point for this work, which is twofold: 1. On one hand, we considered the need to study the phenomenon of retirement and the factors that determine the individuals decision making process. 2. On the other hand, we analyze what could be the best human resources policies to improve the retention of the most valued employees for the companies and thus facilitate general employee - employer agreement. To draw valid conclusions an empirical analysis focused on the Spanish energy sector was developed. This sector was chosen for its strategic nature and its large impact on country's GDP, and also for being the sector in which the doctoral candidate worked 35 years of his career. As a representative sample thereof, companies belonging to the Spanish Energy Club were chosen. This Club represents the energy sector as a whole. For this end, two different questionnaires were designed and distributed, one addressed to qualified "white collar" employees, while the other to the companies themselves...
Description
Tesis inédita de la Universidad Complutense de Madrid, Facultad de Ciencias Económicas y Empresariales, Departamento de Organización de Empresas, leída el 12-01-2016
Collections