Publication:
Sincretismo y simbolismo religioso en el paradigma del Tennō a través de las eras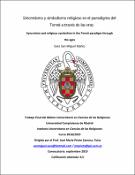 Authors
Advisors (or tutors)
Editors
Abstract
La presente investigación gira en torno a un agente principal, la figura del emperador japonés, quien es analizado a través de los ritos religiosos en los que participa y de los que es destinatario en calidad de paradigma mitificado y depositario del pensamiento sincrético religioso del pueblo nipón. Para ello, se operará a varios niveles metodológicos, fundamentalmente los siguientes: el etimológico, para el esclarecimiento circunstancial de conceptos clave, el razonamiento abductivo, en aquellos casos en los que sea necesario establecer una conjetura en situaciones de ambigüedad del rol del emperador ya que se carece de una aproximación directa al contexto, y el análisis iconográfico propio de la metodología de la Historia del Arte para conectar las categorías estéticas, religiosas y simbólicas del asunto.
The aim of this research paper is to analyze a principal agent, the figure of the Japanese emperor, studied through religious ceremonies in which he sometimes participates in the leading role and other times he is the depository of Japanese syncretic religious thought. To this end, several methodological levels have been undertaken: etymological, to clarify key circumstantial concepts, abductive reasoning, in those cases in which it is necessary to establish a conjecture because of the ambiguity of the emperor's role, and the iconographic method as a suitable methodology of History of Art to connect the aesthetic, religious and symbolic categories.