Publication:
Élites ilustradas al servicio de la Monarquía española: las redes de comerciantes vascos y navarros en Madrid, 1700-1830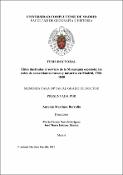 Files
Authors
Advisors (or tutors)
Editors
Publisher
Universidad Complutense de Madrid
Abstract
El principal objetivo de este trabajo se ha centrado en el estudio de las trayectorias de los grupos familiares de vascos y navarros, y las redes que formaron a su alrededor, cuyos miembros constituyeron una élite comercial y financiera con un papel predominante en la gestión y dirección de los Cinco Gremios Mayores de Madrid y de los bancos de San Carlos y San Fernando. Entre otras actividades, fueron banqueros privados y se dedicaron al negocio de lana. Sus actividades tuvieron un carácter eminentemente práctico, por lo que el desarrollo de las nuevas ideas y valores ilustrados despertaron su interés sobre algunos aspectos, como la aparición y expansión de la nueva ciencia de la Economía Política, su presencia activa en las Sociedades Económicas de Amigos del País o la puesta en práctica de las ideas ilustradas sobre la mejora de la educación, lo que pone de manifiesto la integración de estas familias en los grupos ilustrados que se incorporaron al servicio dela Corona. Finalmente, dieron el salto a la participación activa en la vida política a partir de la crisis de 1808...
The main objective of this work has focused on the study of the trajectories of family groups from the Basque provinces and Navarra, and the networks they formed around them, whose members constituted a commercial and financial elite with a predominant role in the management and direction of the Cinco Gremios Mayores of Madrid and the banks of San Carlos and San Fernando. Among other activities, they were private bankers and engaged in the wool business. His activities were eminently practical in nature, so the development of new ideas and enlightened values aroused his interest in some aspects, such as the appearance and expansion of the new science of Political Economy, his active presence in the Economic Societies of Friends del País or the implementation of enlightened ideas on improving education, which highlights the integration of these families into enlightened groups that joined the service of the Crown. Finally, they made the leap to active participation in political life after the crisis of 1808...
Description
Tesis inédita de la Universidad Complutense de Madrid, Facultad de Geografía e Historia, Departamento de Historia Moderna e Historia Contemporánea, leída el 22-01-2021
Collections