Publication:
ACNUR y la promoción de los derechos humanos a través de videojuegos: El caso de Finding Home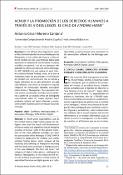 Advisors (or tutors)
Editors
Publisher
Universidad de Cádiz. Facultad de Filosofía y Letras
Abstract
En los últimos años organismos como el Alto Comisionado de Naciones Unidas para los Refugiados se han valido del alcance y difusión de los medios de ocio y aprendizaje digital para aproximar la violación de los Derechos Humanos al público en general. Uno de los ejemplos más palpable ha sido la persecución de los Rohingya. En 2017 ACNUR creó una aplicación para móviles y tablets titulada Finding Home, en la que se mostraban todas las penalidades y sufrimientos de Khatijah por reencontrarse con su familia y lograr sobrevivir en un país extranjero, en este caso Malasia. Este título se enmarca en aquella categoría de videojuegos digitales, catalogado como Serious / Newsgames. En el presente artículo vamos a profundizar en todas estas cuestiones a partir de un análisis crítico de bibliografía especializada sobre los juegos digitales como producto cultural, así como informes y resoluciones sobre la persecución sufrida por el pueblo rohingya.
In recent years organizations such as the United Nations High Commissioner for Refugees have used the reach and dissemination of leisure media and digital learning to bring the violation of human rights to the general public. One of the most palpable examples has been the persecution of the Rohingya. In 2017 UNHCR created an application for mobiles and tablets entitled Finding Home, which showed all the hardships and sufferings of Khatijah for reuniting with his family and surviving in a foreign country, in this case Malaysia. This title falls under that category of digital video games, catalogued as Serious / Newsgames. In this article we will delve into all these issues from a critical analysis of specialized literature on digital games as a cultural product, as well as reports and resolutions on the persecution suffered by the Rohingya people.
Collections