Publication:
Características dentoesqueléticas en población infantil con agenesia.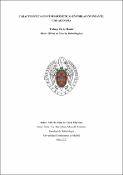 Authors
Advisors (or tutors)
Editors
Abstract
En este estudio se analizó la prevalencia de la agenesia dental, así como su relación con las características dentoesqueléticas de niños con edades comprendidas entre los 6 y los 9 años, mediante los parámetros cefalométricos propuestos por Steiner. La prevalencia de la agenesia dental oscila entre 0,3% a 36,5%, según varios autores. En el presente estudio, la prevalencia de la agenesia es del 5%, porcentaje que concuerda con estudios previos.
Description
Trabajo encuadrado en la línea de investigación: Normalidad y patología odontopediátrica. Determinación de protocolos terapéuticos y evaluación de su aplicabilidad en Odontopediatría.
Citation
1. Cobourne MT, Sharpe PT. Diseases of the tooth: the genetic and molecular basis of inherited anomalies affecting the dentition: Diseases of the tooth. WIREs Dev Biol.Marzo de 2013; 2 (2): 183-212. 2. Polder BJ, Hof MAV. A meta-analysis of the prevalence of dental agenesis of permanent teeth. Community Dent Oral Epidemiol. 2004; 32: 217±26. 3. Al-Ani AH, Antoun JS, Thomson WM, Merriman TR, Farella M. Hypodontia: An Update on Its Etiology, Classification, and Clinical Management. BioMed Research International. 2017:1-9. 4. De Coster PJ, Marks LA, Martens LC, Huysseune A. Dental agenesis: genetic and clinical perspectives: Dental agenesis. Journal of Oral Pathology & Medicine. 3 de Septiembre de 2008; 38 (1): 1-17. 5. Brook AH. A unifying aetiological explanation for anomalies of human tooth number and size. Archives of Oral Biology. 1984 ;29 (5): 373-8. 6. Dassule HR, Lewis P, Bei M, Maas R, McMahon A. Shh regulates tooth growth and morphogenesis. Development. Noviembre de 2000; 127 (22): 4775-85. 7. Thesleff I. Genetic basis of tooth development and dental defects. Acta Odontologica Scandinavica. Enero de 2000; 58 (5): 191-4. 8. Fleischmannova J, Matalova E, Tucker AS, Sharpe PT. Mouse models of tooth abnormalities: Mouse models of tooth abnormalities. European Journal of Oral Sciences. 7 de Enero de 2008; 116 (1): 1-10. 9. Galluccio G, Castellano M, La Monaca C. Genetic basis of non-syndromic anomalies of human tooth number. Archives of Oral Biology. Julio de 2012; 57 (7): 918-30. 10. Kjaer I, Kocsis G, Nodal M, Christensen LR. Aetiological aspects of mandibular tooth agenesis--focusing on the role of nerve, oral mucosa, and supporting tissues. The European Journal of Orthodontics. 1 de Octubre de 1994; 16 (5): 371-5. 11. Alves-Ferreira M, Pinho T, Sousa A, Sequeiros J, Lemos C, Alonso I. Identification of Genetic Risk Factors for Maxillary Lateral Incisor Agenesis. J Dent Res. Mayo de 2014; 93 (5): 452-8. 12. Marañón-Vásquez GA, Dantas B, Kirschneck C, Arid J, Cunha A, Ramos AG de C,et al. Tooth agenesis-related GLI2 and GLI3 genes may contribute to craniofacial skeletal morphology in humans. Archives of Oral Biology. Julio de 2019 ;103 :12-8. 13. Lebbe A, Cadenas de Llano-Pérula M, Thevissen P, Verdonck A, Fieuws S, Willems G. Dental development in patients with agenesis. Int J Legal Med. Marzo de 2017; 131(2): 537-46. 14. Al-Abdallah M, AlHadidi A, Hammad M, Al-Ahmad H, Saleh R. Prevalence and distribution of dental anomalies: A comparison between maxillary and mandibular tooth agenesis. American Journal of Orthodontics and Dentofacial Orthopedics. Noviembre de 2015; 148 (5): 793-8. 15. Laganà G, Venza N, Borzabadi-Farahani A, Fabi F, Danesi C, Cozza P. Dental anomalies: prevalence and associations between them in a large sample of nonorthodontic subjects, a cross-sectional study. BMC Oral Health. Diciembre de 2017; 17(1): 62. 16. Garib DG, Alencar BM, Lauris JRP, Baccetti T. Agenesis of maxillary lateral incisors and associated dental anomalies. American Journal of Orthodontics and Dentofacial Orthopedics. Junio de 2010; 137 (6): 732.e1-732.e6. 17. Tavajohi-Kermani H, Kapur R, Sciote JJ. Tooth agenesis and craniofacial morphology in an orthodontic population. American Journal of Orthodontics and Dentofacial Orthopedics. Julio de 2002; 122 (1): 39-47. 18. Tetradis S, Kantor ML. Prevalence of skeletal and dental anomalies and normal variants seen in cephalometric and other radiographs of orthodontic patients. American Journal of Orthodontics and Dentofacial Orthopedics. Noviembre de 1999; 116 (5): 572-7. 19. Costa AMG, Trevizan M, Matsumoto MAN, da Silva RAB, da Silva LAB, Horta KC, et al. Association between Tooth Agenesis and Skeletal Malocclusions. JOMR. 30 de Junio de 2017 ; 8 (2). 20. Souza-Silva BN, Vieira W de A, Bernardino Í de M, Batista MJ, Bittencourt MAV,Paranhos LR. Non-syndromic tooth agenesis patterns and their association with other dental anomalies: A retrospective study. Archives of Oral Biology. Diciembre de 2018;96: 26-32. 21. Fernandez CCA, Pereira CVCA, Luiz RR, Vieira AR, De Castro Costa M. Dental anomalies in different growth and skeletal malocclusion patterns. The Angle Orthodontist. 1 de Marzo de 2018; 88 (2): 195-201. 22. Bartzela TN, Carels CEL, Bronkhorst EM, Jagtman AMK-. Tooth agenesis patterns in unilateral cleft lip and palate in humans. Archives of Oral Biology. Junio de 2013;(6): 596-602. 23. Masood F, Benavides E. Alterations in Tooth Structure and Associated Systemic Conditions. Radiologic Clinics of North America. Enero de 2018; 56 (1): 125-40. 24. Palaska PK, Antonarakis GS. Prevalence and patterns of permanent tooth agenesis in individuals with Down syndrome: a meta-analysis. Eur J Oral Sci. Agosto de 2016; 124(4): 317-28. 25. Ota S, Hirakata C, Endo T. Prevalence and patterns of tooth agenesis among malocclusion classes in a Japanese orthodontic population. J Oral Sci. 2019; 61 (4): 504- 7. 26. Gracco ALT, Zanatta S, Forin Valvecchi F, Bignotti D, Perri A, Baciliero F.Prevalence of dental agenesis in a sample of Italian orthodontic patients: an epidemiological study. Prog Orthod. Diciembre de 2017; 18 (1): 33. 27. Abdullah R, Kuijpers M, Berge S, Katsaros C. Steiner cephalometric analysis:predicted and actual treatment outcome compared. Orthod Craniofac Res. Mayo de 2006; 9 (2): 77-83. 28. Steiner C. Cephalometrics in clinical practice. 1959; 29: 8-29. 29. Ahmed M, Shaikh A, Fida M. Diagnostic validity of different cephalometric analyses for assessment of the sagittal skeletal pattern. Dental Press J Orthod. Octubre de 2018; 23(5): 75-81. 30. Farooq MU. Assessing the Reliability of Digitalized Cephalometric Analysis in Comparison with Manual Cephalometric Analysis. J Clin Diagn Res. 2016 Oct; 10 (10):20±23. 31. EIgaard B. Craniofacial structure and s@ tissue profile in patients with severe hypodontia. American Journal of Orthodontics and Dentofacial Orthopedics. 1995; 108(5): 6. 32. Roald KL, Wisth PJ, Bøe OE. Changes in craniofacial morphology of individuals with hypodontia between the ages of 9 and 16. Acta Odontologica Scandinavica. Enero de 1982; 40 (2): 65-74. 33. Arvedsen KP, Kjær I. Dental and craniofacial findings in 91 individuals with agenesis of permanent maxillary canines. Eur Arch Paediatr Dent. Agosto de 2017; 18 (4): 243-50. 34. Buyuk SK, Ozkan S, Benkli YA, Arslan A, Celik E. Evaluation of the skeletal and dental effects in orthodontic patients with maxillary lateral incisor agenesis. J Esthet Restor Dent. 8 de Julio de 2017; 29 (4): 284-90. 35. Huang Y, Yan Y, Cao J, Xie B, Xiao X, Luo M, et al. Obeservations on association between third molar agenesis and craniofacial morphology. J Orofac Orthop. Noviembre de 2017; 78 (6): 504-10.