Publication:
Tiempos de guerra: una visión de España desde la perspectiva de la diplomacia checoslovaca de 1936 a 1945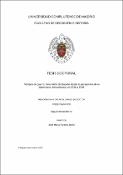 Files
Authors
Advisors (or tutors)
Editors
Publisher
Universidad Complutense de Madrid
Abstract
Esta tesis examina la actividad de la diplomacia checoslovaca en España durante la Guerra Civil y la Segunda Guerra Mundial. A pesar de que la República Checoslovaca había servido de modelo político para la Segunda República Española, el gobierno checoslovaco se adhirió al acuerdo de no intervención desde el comienzo de la Guerra Civil, cumplió plenamente con el embargo de armas e impidió que los jóvenes se unieran a las Brigadas Internacionales en la lucha por la República. La desaparición de Checoslovaquia entre guerras en 1939 no puso fin a la presencia de diplomáticos checoslovacos en España. El Gobierno Checoslovaco en el Exilio, con sede en Londres, abrió una oficina en Madrid durante la Segunda Guerra Mundial, al tiempo en que la Península Ibérica se convirtió en una de las principales vías de fuga para los refugiados que huían de la Europa ocupada por los nazis. Esta tesis explica las preocupaciones de seguridad y política exterior que llevaron a Checoslovaquia a seguir a las potencias occidentales en su política de no intervención en España. Describe la actividad de los diplomáticos checoslovacos en España: sus informes políticos, el asilo humanitario que ofrecieron a más de dos-cientos refugiados en Madrid y sus contactos con miembros de las Brigadas Internacionales y el personal del hospital de campaña Komenský, la principal contribución humanitaria checoslovaca para aliviar el sufrimiento de la guerra...
This thesis examines the activity of Czechoslovak diplomacy in Spain during the Civil War and the Second World War. Despite the fact that the Czechoslovak Re-public had served as a political model for the Spanish Second Republic, the Czecho-slovak government joined the non-intervention agreement from the outset of the Civil War, complied fully with the arms embargo and prevented young people from joining the International Brigades in the fight for the Republic. The disappearance of interwar Czechoslovakia in 1939 did not put an end to the presence of Czechoslo-vak diplomats in Spain. The London-based Czechoslovak Government in Exile opened an office in Madrid during the Second World War, as the Iberian Peninsula became a main escape route for refugees fleeing Nazi occupied Europe.This thesis explains the security and foreign policy concerns that led Czech-oslovakia to follow the Western powers in their non-intervention policy in Spain. It describes the activity of the Czechoslovak diplomats in Spain: their political reports, the humanitarian asylum they offered to over two hundred refugees in Madrid and their contacts with members of the International Brigades and the staff of the Komenský field hospital, the main humanitarian Czechoslovak contribution to alle-viate the suffering of the war...
Description
Tesis inédita de la Universidad Complutense de Madrid, Facultad de Geografía e Historia, leída el 02/06/2022
Collections