Publication:
Factores psicosociales implicados en la artritis reumatoide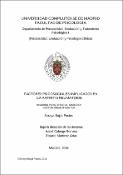 Files
Authors
Advisors (or tutors)
Editors
Publisher
Universidad Complutense de Madrid
Abstract
El objetivo de este estudio es analizar del afrontamiento al estrés, el afrontamiento del dolor y el apoyo social percibido, para establecer su relación con la incapacidad funcional y el dolor percibido, en pacientes diagnosticados de artritis reumatoide (AR), comparados con pacientes sin patología que limite su capacidad funcional (grupo comparación). Para ello, han sido evaluados un total de 230 pacientes, 110 pacientes con artritis reumatoide y 120 pacientes en el grupo de comparación, pertenecientes a hospitales de red de sanidad pública y privada de la Comunidad Autónoma de Madrid (España). El protocolo de evaluación ha consistido en el Cuestionario de afrontamiento al estrés COPE (Carver, Scheier y Weintraub, 1989), Cuestionario de afrontamiento al dolor CAD (Soriano y Monsalve, 2002), la Escala de apoyo social abreviada SSQ-6 (Sarason, Sarason, Shearin y Pierce, 1987), escala numérica de dolor (EN) y el Cuestionario de la evaluación de la salud de Stanford HAQ (Fries, Spitz, Kraines y Holman, 1980). También, se han recogido datos sociodemográficos y años de evolución de la enfermedad en el grupo de AR. El análisis estadístico se ha realizado mediante el programa SPSS v.22, y ha consistido en pruebas paramétricas, con contrastes de pruebas no paramétricas, de diferencias de medias, estudio de correlaciones y ecuaciones de regresión, tanto para las comparaciones entre ambos grupos, como para el estudio de los pacientes con AR...
The aim of this study is to analyze the stress coping strategies, pain coping strategies, and perceived social support, to establish their relationship with the functional disability and the perceived pain in patients diagnosed with rheumatoid arthritis (RA), in comparison with patients with no pathology to limit their functional abilities (control group). To that purpose, 230 patients were assessed, 110 patients with rheumatoid arthritis and 120 patients in the control group, all of them within public and private hospitals in the Madrid autonomous region, Spain. The assessment protocol was made up by the COPE stress coping inventory (Carver, Scheier & Weintraub, 1989), the Pain Coping Questionnaire (Cuestionario de afrontamiento ante el dolor, CAD, Soriano & Monsalve, 2002), the abbreviated Social Support Questionnaire SSQ-6 (Sarason, Sarason, Shearin & Pierce, 1987), the pain numerical rating scale (NRS), and the Stanford Health Assessment Questionnaire (HAQ, Fries, Spitz, Kraines & Holman, 1980). Additionally, socio-demographic data and information on the years of development of the disease were collected for the RA group. The statistical analysis, done with the software SPSS v.22, has involved parametric tests, with non-parametric contrast tests, for mean differences, correlation study, and regression equations, both for comparison between the two groups and for the study of the patients with RA...
Description
Tesis inédita de la Universidad Complutense de Madrid, Facultad de Psicología, Departamento de Personalidad, Evaluación y Tratamiento Psicológico I (Personalidad, Evaluación y Psicología Clínica), leída el 27-01-2016
Collections