Publication:
Epidemiología, caracterización molecular y estudio de resistencia a antimicrobianos de aislamientos de Neisseria gonorrhoeae en un centro de infecciones de transmisión sexual de la Comunidad de Madrid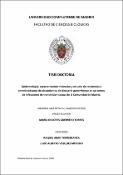 Authors
Advisors (or tutors)
Editors
Publisher
Universidad Complutense de Madrid
Abstract
La infección gonocócica es la segunda infección de transmisión sexual (ITS) de etiología bacteriana más prevalente a nivel mundial. Actualmente, constituye un importante problema de salud pública, no sólo por su elevada incidencia sino porque además, N. gonorrhoeae ha desarrollado resistencia a todos los antibióticos de primera línea disponibles, lo que ha llevado a la aparición y dispersión de cepas multirresistentes a nivel mundial. Asimismo, la ausencia de nuevos antibióticos activos frente a este microorganismo, hace necesario el estudio y la vigilancia continuada de resistencias a los antibióticos previamente utilizados. El objetivo principal de este estudio es obtener un conocimiento detallado de las características de la infección gonocócica en un centro especializado en infecciones de transmisión sexual en Madrid, mediante el análisis epidemiológico, de dinámica poblacional y del perfil de sensibilidad antibiótica de las cepas de N. gonorrhoeae aisladas durante los meses de julio a octubre de 2016...
Gonococcal infection is the second most prevalent sexually transmitted bacterial infection worldwide. Nowadays, this has become a major public health problem, not only for its high incidence but because N. gonorrhoeae has developed resistance against all the available first-line treatments, which has led the emergence and spread of multidrug-resistant strains in the world. Moreover, the absence of new active drugs against this microorganism leads to the study and continuous observation of the previously used antibiotics and the resistance that was created.The aim of this study is to know the characteristics and the specific details of the gonococcal infection in a sexually transmitted infections (STI) reference clinic in Madrid by analysing the epidemiology, the population dynamics and the antimicrobial susceptibility profile of the of N. gonorrhoeae strains that were isolated between the months of July and October of the year 2016...
Description
Tesis inédita de la Universidad Complutense de Madrid, Facultad de Ciencias Biológicas, Departamento de Microbiología y Parasitología, leída el 08-10-2020
Collections