Publication:
Incremento de exactitud en la dosis en tratamientos de ORL mediante el algoritmo Acuros y calibración optimizada del haz sin filtro aplanador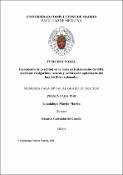 Files
Authors
Advisors (or tutors)
Editors
Publisher
Universidad Complutense de Madrid
Abstract
La Radioterapia Externa es un componente crucial en el tratamiento de los cánceres de la región de Cabeza y Cuello (ORL). El patrón de progresión del cáncer de ORL es principalmente loco-regional, por lo que la gran mayoría de los/as pacientes con cáncer de ORL recibirán tratamiento radioterápico durante el curso de su enfermedad. Una de las opciones para aumentar la efectividad del tratamiento es incrementar la exactitud de la dosis, ya que existe una relación directa entre dicho aumento y la tasa de curación de tumores en fase temprana. Asimismo, una menor o mayor administración de dosis que la inicialmente calculada implica la posibilidad de recidiva del tumor o de aumento de la morbilidad del tratamiento, por lo que la exactitud de la dosis constituye un factor fundamental para el éxito del tratamiento...
External Radiation Therapy (RT) is a crucial component in the treatment of cancers of the Head and Neck (H&N) region. The progression pattern of H&N cancer is mainly locoregional, so the vast majority of H&N cancer patients will receive radiotherapy treatment during the course of their disease. One option to increase the effectiveness of these treatments is to increase the dose accuracy of the treatment, given that there is a direct relationship between the dose accuracy increase and the cure rate of early-stage tumours. Likewise, a lower or higher dose administration than initially calculated means that there is a possibility of tumour recurrence or an increase in treatment morbidity, so dose accuracy is a key factor for treatment success...
Description
Tesis inédita de la Universidad Complutense de Madrid, Facultad de Medicina, Departamento de Radiología, Rehabilitación y Fisioterapia, leída el 20-12-2021
Collections