Publication:
Embajadores/Lavapiés, ¿un barrio con vulnerabilidad o gentrificado?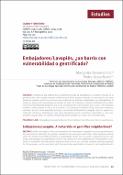 Advisors (or tutors)
Editors
Abstract
A diferencia del análisis de las transformaciones de Embajadores/Lavapiés centrado en la gentrificación, este trabajo persigue evidenciar que dicho proceso coexiste en este espacio con otras dinámicas urbanas, entre las que destaca la producción de distintas modalidades de vulnerabilidad. El trabajo se apoya en la metodología de estudio de caso. Se combina el estudio cuantitativo de la evolución de la vulnerabilidad del barrio, a la luz de la comparación intercensal de 2001 a 2011 y del indicador sintético confeccionado al efecto, de una parte, con el examen cualitativo de los discursos expertos y vecinales, de otra. Como resultado principal, se identifica Embajadores/Lavapiés como un espacio socialmente complejo y heterogéneo, que sigue albergando zonas y colectivos vulnerables, y cuya comprensión requiere tener en cuenta la diversidad de los procesos en curso y sus interrelaciones.
Unlike the analysis of the transformations of Embajadores/Lavapiés focused on gentrification, this work aims to show that this process coexists in the same space with other urban dynamics, among which the production of different forms of vulnerability stands out. The work is supported by the case study methodology. The quantitative study of the evolution of the neighborhood's vulnerability is combined -in the light of the intercensal comparison from 2001 to 2011 and the synthetic indicator prepared for this purpose-, on the one hand, with the qualitative examination of experts' and neighborhood's discourses, on the other. As a main result, Embajadores/Lavapiés is identified as a socially complex and heterogeneous space, which continues to host vulnerable areas and groups, and whose understanding requires taking into account the diversity of the ongoing processes and their interrelations.
Collections