Publication:
Gobierno electrónico y percepción sobre la corrupción. Un estudio comparativo sobre su relación en los países de Latinoamérica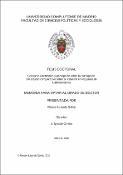 Files
Authors
Advisors (or tutors)
Editors
Publisher
Universidad Complutense de Madrid
Abstract
A pesar del hecho de que la tecnología tiene cada vez mayor presencia en la sociedad moderna y el desarrollo del Gobierno electrónico (eGobierno) es cada vez más avanzado, esto no se refleja necesariamente en una reducción de la percepción de corrupción, especialmente en América Latina. Este trabajo de investigación doctoral examina la relación entre el desarrollo del eGobierno en los países latinoamericanos y la percepción de corrupción que tienen sus ciudadanos, buscando encontrar factores intervinientes para explicar esa relación. Los factores o variables intervinientes definidas son institucionalidad, madurez de la democracia y confianza política. El objetivo general de la investigación es determinar el grado de relación entre el nivel de desarrollo de eGobierno con la percepción de corrupción por parte de los ciudadanos. Los objetivos secundarios son: a) Determinar cuál es el grado de incidencia entre percepción de la corrupción y otras variables relevantes. b) Identificar a partir de cuál grado de desarrollo del eGobierno empieza a mejorar significativamente la percepción de corrupción por parte de los ciudadanos. c) Dentro del indicador de gobierno electrónico, determinar cuál es el peso específico en la percepción de corrupción de los subindicadores: servicios en línea, infraestructura de telecomunicaciones y capital humano...
Given the fact that technology has growing presence in modern society and the development of eGovernment is becoming more advanced with time, yet this is not reflected many times in a reduction in the perception of corruption, especially in Latin America ; This doctoral research work examines the relationship between the development of eGovernment in Latin American countries and the perception of corruption that have their citizens, seeking to find intervening factors to explain that relationship. The intervening factors or variables are defined institutions (rule of law), democracy development and political trust. The overall objective of the research is to determine the degree of relationship between the levels of development of eGovernment with the perception of corruption by citizens. The secondary objectives are: a) Determine the degree of incidence between perception of corruption and other relevant variables. b) Identify from what level of development of eGovernment begins to significantly improve the perception of corruption by citizens. c) Within the indicator eGovernment, determine the specific weight in the perception of corruption of the sub-indicators: online services, telecommunications infrastructure and human capital...
Description
Tesis inédita de la Universidad Complutense de Madrid, Facultad de Ciencias Políticas y Sociología, leída el 25-05-2017
Collections